Dr. Nrushingha Sahu | MLA Profile
PARJANGA CONSTITUENCY
Reservation Type:- General
Fifteenth Assembly (18/05/2014-Running)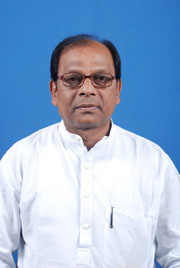 DATE OF BIRTH:14/07/2022
PARENT:Shri Guja Sahoo
MARITAL STATUS:Married
SPOUSE'S NAME:Smt. Soudamini Sahoo
QUALIFICATION:M.B.B.S
PROFESSION:Medical Practitioner
HOBBY: Playing Volleyball Cricket and Football.
FAVOURITE PASTIME:Reading of different magazines novels and other books.
SPECIAL INTEREST:To have chit chat with common people
SOCIAL ACTIVITIES:To serve patients. To help poor helpless and down-trodden people of the society. To educate the people for eradication of social evils.
ADDRESS:
Qrs. No.-15/2 DS M.L.A. Colony Unit-IV Bhubaneswar.
PERNAMENT ADDRESS:
At.-Dihadol P.O.-Parjang Dist.-Dhenkanal.
---
OTHER INFORMATION:
A student leader during medical studies Government servant from 1976 to 1984. Joined Janata Party in 1984 and then Janata Dal joined Indian National Congress on 17.3.2004.
---
---
CONSTITUENCY AREA:Constituency information will be updated soon.
---
MLA News:Mla News will be updated soon.
Dr. Nrushingha Sahu History



1. Biju Janata Dal
15(th)
PARJANGA
2. Biju Janata Dal
14(th)
PARJANGA
3. Indian National Congress
13(th)
PALLAHARA
4. Janata Dal
10(th)
PALLAHARA

---