Naveen Patnaik to be Odisha CM for the fourth term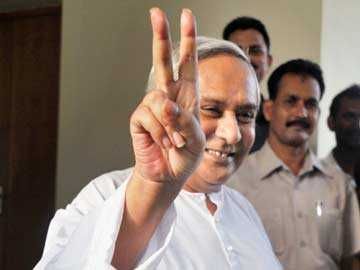 BHUBANESWAR: BJD president Naveen Patnaik, who steered Biju Janata Dal to a landslide victory in the assembly polls in Odisha, is set to become chief minister for the fourth consecutive term as he was unanimously elected its legislature party leader today.

Patnaik was chosen the BJDLP leader in the first meeting of the newly elected MLAs held at the party headquarters here, BJD sources said.

Senior MLA V Sugyan Kumari Deo moved the proposal which was supported by Damodar Rout.

The election was a mere `formality` as he is the `undisputed` leader of BJD, the sources said.

After his election, Patnaik, who has been the chief minister since 2000, thanked the newly elected members to the assembly for choosing him as their leader. "We will all work together with renewed effort for the development of Odisha and its people."

BJD had swept the assembly polls in the state grabbing a lion`s share of 117 seats in the 147-member house.

While raising its tally from 103 seats in 2009 to 117 this time, the regional party virtually decimated Congress as well as BJP which won 16 and 10 seats respectively.

Meanwhile, the process of constitution of the new assembly has commenced with the state chief electoral officer Jyoti Prakash Dash meeting Governor S C Jamir earlier in the day and presenting him the gazette notification in this connection, official sources said.

The schedule for the swearing-in of the new ministry will be finalized soon, they added.