BJP threatens stir over State inaction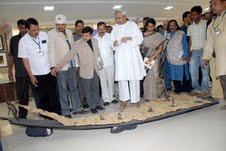 BHUBANESWAR: The BJP has come down heavily on the Government for doing nothing when the neighbouring Andhra Pradesh is trying hard to get national project status for Polavaram irrigation project on the river Godavari.

After filing an injunction suit in the Supreme Court in February last year for stopping the Andhra Pradesh Government from proceeding ahead with the multi-purpose irrigation project, the State Government is sitting idle on the issue, said State BJP president Jual Oram.

Alleging that Chief Minister Naveen Patnaik had failed to take up the issue with the Centre in right earnest, Oram said the BJD Government which is busy looting the minerals of the State has no time for such important issue.

The project on completion will inundate more than 12 villages of the tribal- dominated Malkangiri district. Similarly, the irrigation project on the river Bansadhara by Andhra Pradesh will also affect several areas of southern parts of the State.

Major Irrigation Minister of Andhra Pradesh P. Lakshmaiah during his recent visit to Delhi met Union Water Resources Minister Pawan Kumar Banswal and requested him to accord national status to Polavaram irrigation project.

Banswal reportedly promised him to take up the issue in the next Cabinet meeting of the Centre.

If national status is accorded to the controversial project, the Centre will take care of the project cost which has been estimated at Rs 10,151 crore.

The need of the hour is that the Chief Minister should take tough stand on the issue and directly take up the matter with Prime Minister Manmohan Singh. The Centre should be pressurised not to accord national status to the project till the case is finalised by the apex court, he said.

If the Government failed to stop the controversial project, Oram threatened to take the issue to the people and launch a peopleís movement against the project.