Bharat Bandh total, peaceful in Orissa says Naveen Patnaik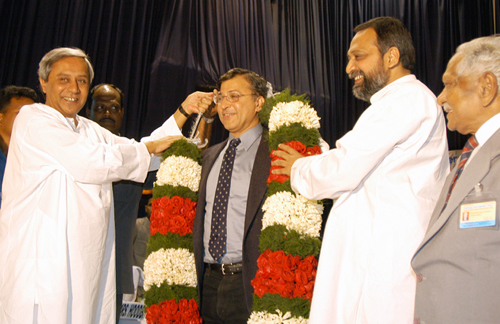 "The hartal was successful and peaceful in the state ," said Chief Minister and BJD supremo Naveen Pa tnaik here this evening . Around 1000 people were rounded up as a preventive measure in different places in the state capital while picketing and staging demonstrations. Vehicular traffic came to a halt across the state as supporters of the bandh, backed roads. Roads in the capital city and elsewhere looks like a desert as buses, trucks, taxis, cars and auto-rickshaws was not playing. The shutdown hit rail services as a number of trains were stopped at various stations for varied duration.passenger train No- 209 halted at Dhenkanal, passenger train No- 206 at Bhadrak, passenger train No- 207 at Puri, passenger train No 204 halted at Puri . Similarly express train No- 2659 2893,2716 halted at Bhubaneswar. Express train No- 8416 , 8414,8507 ,8646,2844 halted at Khurda. Express train No- 2839 at Baranga, 5228 at Bhadrak, 2515 at Bhadrak, 2842 at Jajpur, 2074 at Kapilash, 8448 at Nirakarpur, 6804 at kalupada, 2802 and 8426 halted at Cuttack. On the otherhand Cuttack-Paradeep Passenger, Puri-Cuttack passenger, Howrah- Bhubaneswar Dhauli express, Khalikote-Bhubaneswar passenger, Bhubaneswar-Khalikote passenger, 234 Cuttack- Bhadrak passenger were cancelled. And 2073 and 74 train were returned from jajpur.

Under the leadership of Bhubaneswar Youth BJD President Babu Singh a vast moror cycle rally were moving throught the capital city. Legislature Sanjay Dasberma, Bhagirathi Badajena, Bijaya Mohanty, Mayer of BMC Ananta Narayan Jena, former Mayer Mihir Mohanty were accompanied with the motor cycle rally. The activists done picketing in front of the central government offices like Reserve Bank of India, Accountant General Office , Income Tax office, Central Exise office, Nalco, Doordarshan, State Bank of India Main Branch, CBI office, Indian Oil Corporation Office, Directorate of Census, Railway Headquarter office, etc. Leader of the youth BJD Sunil Pradhan, Jitendra Parida, Amarjit Senapaty, Bishnu Sharma, Naren Sahoo, Saumyakanta Tripathy, Gagan Pradhan, Sanju Mohanty, Sandhya Biswal were taking leadership. Of the rally.
Senior CPM leader Shibaji Patnaik, Santosh Das, Dusmanta Das, CPI leader Dibakar Naik, Ashis Kanungo, Sauri Bandhu Barik, Sura Jena , Sridhar Mishra, Ramesh Jena, Suresh Panigrahi also taken leadership of their respective parties. The nation-wide strike was called in by the political parties to protest against the skyrocketing prices of all essential commodities. Schools, Educational institutes, shops, banks and commercial establishments remained closed. . Many employees at the government and private organisations could not reach office because of the strike.

As per the information about 10 thousand peoples were arrested during the Bandh. In Bhubaneswar the police has arrested 50 activists.