CM directs officials to complete Commissionerate building by June, 2011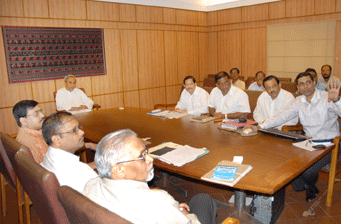 Chief Minister Naveen Patnaik on Friday directed concerned authority to complete the construction work of Bhubaneswar-Cuttack Commissionerate building by June, 2011.

Reviewing a meeting on progress of construction work of the building, the Chief Minister gave this direction. It was known from the meeting that Police Housing Corporation has taken up the construction work at estimated cost of Rs 20 crore. The main building of the Twin-City Police Commissionerate would have special chambers for Director General of Police (DGP), Commissioner of Police (CP), a conference hall, a grievances cell and a Press room. With other facilities, the building is going to be five star energy efficient one to be owned by State Government. With this system the building would consume less energy. Only RBI building is said to be the first one comes under this category and no other building is there bearing the status in city.

Among others, Finance Secretary Jugal Kishore Mohapatra, Principal Secretary to the Chief Minister Bijay Kumar Patnaik, Home Secretary Upendra Nath Behera, Urban Development Secretary Deoranjan Kumar Singh, Director General of Police Manmohan Praharaj and Commissioner of Police BK Sharma were present.