CM inaugurates Farm Machinery Research and Development Centre.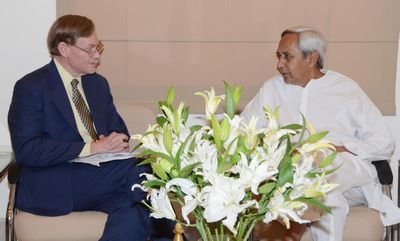 The Chief Minister Naveen Patnaik inaugurated the Odisha Farm Machinery Research and Development Centre today at Bhubaneswar.

He said agriculture scientists and Government officials should take sincere steps to provide modern low-cost equipments to farmers.Patnaik said the use of low-cost implements by farmers has substantially increased in past five years. The State at present makes business of farm equipments worth about Rs 4 crore every year.

The State Government is providing 50 per cent subsidy to farmers on use of these equipments. Agriculture mechanisation is one of the important inputs which helps in efficient use of other inputs. About 10,000 tractors, 14,000 power tillers, 1,000 reapers and 150 combines are being sold in the State every year.

Agriculture Minister Pradip Maharathi, MP Dr Prasana Patasani, Legislature Bijaya Kumar Mohanty, Bhagirathi Badajena, Departmental Director Santha Gopalan also grace the occasion. In this occasion the Chief Minister felicitated 10 successful farmers who have used developed agriculture implements.