CM not keen on talks with Naxals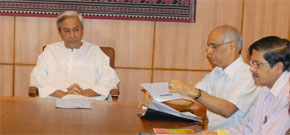 Even as the Art of Living guru Sri Sri Ravishankar offered to act as a mediator in the proposed talks with the Naxalites, the State Government on Tuesday said it is not possible unless the radicals give up violence.
"It is not possible to have discussions with them (Naxals) till they give up the path of violence'', Chief Minister Naveen Patnaik told mediapersons in the presence of Ravishankar.Asked about the offer made by Ravishankar, Naveen said he had discussions with the former on the good work done in Bihar and Jharkhand. But as far as the Government is concerned, there is no scope for talks with Naxals till they shun violence.Earlier, Ravishankar met Naveen at his residence where both had a discussion for about 30 minutes. "We talked on how to bring peace and reduce violence. We also spoke on the development of the country'', Ravishankar said."I am appealing to the Naxalites to shun the path of violence. We all together will look for social justice and development of the State'', Ravishankar replied to a question on his role over the proposed talks with ultras.Stating that he was always ready to bring any sort of peace negotiation anywhere in the world, the spiritual guru said that Naxals should shun violence.