CM raises concern over pending cases for disposal in courts.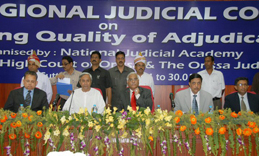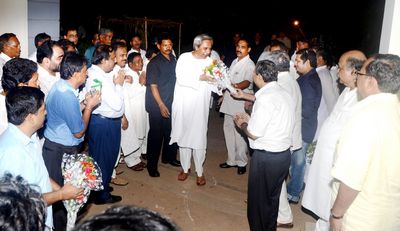 Chief Minister Naveen Patnaik on Sunday expressed concern over pending cases for disposal in courts and stressed the need of evolving mechanisms to ensure timely justice to people. But at the same time, he warned, "In our anxiety for quick justice, the quality or efficiency in adjudication and justice delivery should never be sacrificed."

Patnaik was speaking at the valedictory session of the three-day East Zone Regional Judicial Conference on "Enhancing Quality of Adjudication." which was organised by the National Judicial Academy and hosted by the Odisha Judicial Academy in the premises of the Odisha High Court here. Patnaik was of the view that the increase in number of cases in courts and their disposal have been standing in the way of quality of adjudication. He, however, maintained that Legislature and Judiciary are making all best efforts to sort out this problem. He hoped that all stakeholders must be involved in the process to address the issue.

The colloquium, organised to equip judicial officers to deliver speedy and quality justice, was attended, among others, by over a hundred delegates from Odisha, West Bengal, Jharkhand, Bihar, Chhattisgarh, Sikkim and Assam. The conference was addressed by four Judges of Supreme Court and the Chief Justices of Delhi and Guwahati.

Supreme Court Judge Justice Dalveer Bhandari dwelled at length on broad parameters for better adjudication by the judges and the basic considerations to be kept in mind while drafting the orders and judgments. He emphasised that judges of the superior courts must ensure that there is access to justice for all, free legal aid to the poor, total transparency in the justice delivery system and zero tolerance to corruption. "Erosion of credibility is the greatest threat to judiciary in India," the SC Hudge said, calling upon the judicial officers to maintain public trust. Asking the judges and lawyers to update their knowledge in view of the emerging new laws ushered in by globalisation, he asked lawyers to make written submissions in courts besides oral submissions.

On drafting of judgments, he felt that judges must avoid derogatory remarks and refrain from sarcastic observations in their orders. "The court orders should contain statement of facts, points of dispute and reasons for granting relief or rejecting pleas," he said, adding that the language of a judge should be like scalpel of a surgeon -- meticulous, sombre and precise.

The valedictory session was also addressed by Odisha Chief Justice V Gopal Gowda and Director of National Judicial Academy G Mohan Gopal.