CM says benefit of green revolution not distributed equitably to all States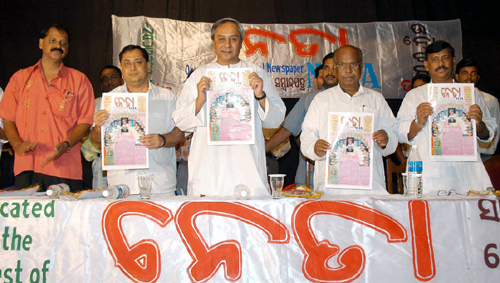 The Chief Minister Naveen Patnaik has inaugurated one day Workshop on "Bringing Green Revolution to Eastern India- Focus, Orissa" held in the Swaminath Auditorium of Orissa University of Agriculture and Technology (OUAT) on Wednesday.

The Chief Minister said that the State of Orissa is predominantly agrarian. Agriculture and allied sectors continue to be the backbone of the State's rural economy. The economic advancement of the State depends to a large extent on development of the Agriculture Sector. However, agriculture in our State is characterized by low productivity. There are a number of reasons contributing to this low productivity. Frequent occurrence of natural calamities, small and fragmented holding, absentee-Landlordism, problematic soil are some of the reasons. The yield-gap existing in the State gives us the scope to enhance the productivity substantially by bridging this yield gap.

The Chief Minister said that Though the Green Revolution led to substantial increase in the food production in the country making it self-sufficient in food production, the benefit of green revolution was not distributed equitably to all the States. Our farmers could not get benefit as much from the earlier Green Revolution as farmers in some other parts of the country. I am glad that Government of India has realized the potential of eastern Indian plains comprising of Eastern Uttar Pradesh, Bihar, Chhatisgarh, Jharkhand, West Bengal and Orissa, and has announced this new initiative for extending Green Revolution of Eastern India aimed at bridging the yield gap in the productivity. The aim of this new initiative is to increase the productivity by intensive cultivation through promotion of recommended technologies and desirable practices. It includes adoption of new seed varieties, farm machines, nutrients, pesticides and knowledge based intervention as developed for different agro-climatic zones. Ours is primarily a rice based farming system. Hence, the major efforts need to be made for increasing the productivity of the rice. Simultaneously, we need to give emphasis on crop diversification as upland paddy area need to be diversified to other crops such as maize, oil seed and pulses.

Dry land farming has not received the attention which it should have received in the 2nd Green Revolution for the eastern region, due emphasis needs to be given for enhancing productivity of dry-land agriculture. The effect of climate change is already visible in the country as well as in our state. The rainfall distribution over time and space has started showing erratic behavior. The strategy under this new initiatives should aim at addressing this issue so as to minimize the impact of climate changes on crop production and productivity. Agronomic practices need to be reoriented so that our farmers adapt to climatic changes.

Further the Chief Minister said My Government has been attaching utmost importance to the development of agriculture in the state and well-being of farming community in general. Emphasis is being given to increase irrigation coverage as well as to increase water use efficiency. We have already started implementing new Agriculture Policy aimed at all-round development of agriculture sector. We have also set up a State Farmers' Commission to examine the issues being faced by the State on agricultural front in a holistic manner and come out with proper recommendations. Various measures taken by the State Government have let to increase in the productivity of most of the crops in spite of frequent natural calamities afflicting the State.

While pursuing the goals of the 2nd Green Revolution, we should not loose tract of the sustainability of methods adopted to achieve these goals. Achieving an unprecedented yield for a few years with depleting fertility of the lands will not be acceptable. Excessive use of fertilizer and pesticides is as undesirable as their lack of use. Hence, we need to orient our strategies for achieving sustainable and equitable growth of agriculture. The Scientists, Researchers, Policy Makers and those in the field who are responsible for implementing various programmes and schemes have all assembled here to discuss the ways and means for ushering in 2nd Green Revolution to the State of Orissa. I am sure, the deliberations in the day-long workshop will lead to preparation of strategic plan relevant to our State. With proper implementation of such strategic plan, I am hopeful that our farmers will be able to reap the benefits of this 2nd Green Revolution.

Among others Agriculture Minister Dr Damodar Rout, Additional Development Commissioner Rabinarayan Senapati, Principal Secretary of Agriculture Department Upendra Prasad Singh, Vice-Chancellor of OUAT Dr Debi Prasad Ray, Director of Agriculture R.S.Gopalan, senior Officials and Scientists of Agriculture Department, Senior Officials of Central Rice Research Institute, Agriculture University and other Agriculture Research Organisations, Director of Agriculture and Hurticulture were participated in the seminar.