CM says financial inclusion most important challenge for banks.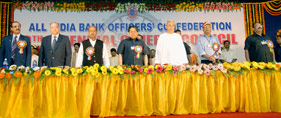 Stating that financial inclusion as the most important need of the people at the lowest rungs of the economic ladder in Odisha, chief minister Naveen Patnaik on Saturday exhorted the banks and its officers to redesign their strategies to include the needs for banking services for such people.

Most banks in the state have credit-deposit ratios that are not only below the national average but way below the RBI -recommended level as well, he rued while speaking at the inaugural session of the 9th Triennial General Council of the All India Bank Officers' Confederation (AIBOC) here.

Echoing the view of the chief minister, finance minister Prafulla Chandra Ghadei said that Odisha is no more the land of deprivation but a land of opportunities now.

However, the people need credit for economic activity in the state, which is predominantly agricultural.

Sports and youth affairs minister PC Bhanjdeo urged the bankers to encourage entrepreneurs by extending credit and banking facilities.

Chairman of Punjab National Bank KR Kamath observed that 65 per cent of the people in the country do not have access to banking facilities, and the target of the government is to provide banking in all villages above 2,000 population by March 2012.

He mentioned bank consolidation, outsourcing and customer satisfaction as necessary activities.

Odisha High Court Chief Justice V Gopalagowda, in his keynote address, analysed the stand of both the management and the officers and reminded them that the banks were nationalised for uplift of the poor people.

He advised them to scrutinize their stands on different issues keeping this objective in mind.

The AIBOOC officials, who included their all-India president PK Sarkar, general secretary GD Nadaf, president of the Odisha unit GC Mishra and former general secretary of the state unit Amit Motayed agreed on the importance of the financial inclusion but differed on its implementation as is being suggested by the bank managements.