Coastal zone project will benefit 25 lakh people in State: Naveen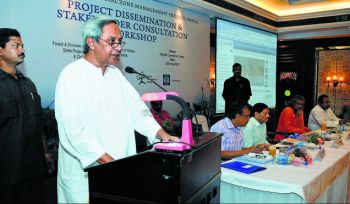 Environmentalists, fishermen and other stakeholders were here on Tuesday consulted on Integrated Coastal Zone Management (ICZM) Project which was envisaged to be implemented on a pilot basis at an estimated cost of Rs. 227.64 crore.

Addressing a workshop, Chief Minister Naveen Patnaik said, "the project will be implemented during the next five years in three coastal states -- Orissa, Gujarat and West Bengal."

"In our State the project will be implemented in two coastal stretches: Paradip to Dhamra and Gopalpur to Chilika. It will cover districts of Kendrapara, Jagatsinghpur, Khurda, Puri and Ganjam envisaging an integrated approach covering activities of various stakeholders for the sustainable use of the coastal resources while maintaining the natural environment," Mr. Patnaik said.

The Chief Minster said the project would benefit about 25 lakh coastal population of the State. "About four lakh people from 235 coastal villages of Kendrapara, Jagatsinghpur, Puri, Khurda and Ganjam will be directly benefitted from the project activities. Direct employment opportunity for the coastal fishermen will be created through eco-tourism activities," he said.

The project is funded by World Bank while 10 per cent of the total project cost would be borne by the State government.

Under this project, efforts would be made to formulate an Integrated Coastal Zone Management Plan for the State, do research on coastal erosion and associated oceanographic processes, ensure livelihood security (mainly the fishermen who get affected during the fishing ban period) and for biodiversity conservation. At least 10 government oraganisations have come together to implement the project.

A large congregation of Olive Ridley Sea Turtles in the coastal waters of Orissa was reported to begin in mid-October and end in April/ May. The recent ban on fishing in the turtle congregation area is generally effective from November 1 to May 31.

Through estimation, it is envisaged that about 26,861 active fishermen in the vicinity of the prohibited areas are mostly affected. In order to provide proper livelihood security to the fishing and associated communities, plans are afoot to go for crab fattening in abandoned shrimp farms, diary and value addition of fishery products and aquaculture of scampi, sea bas and other sustainable species.