Handicrafts expo gets under way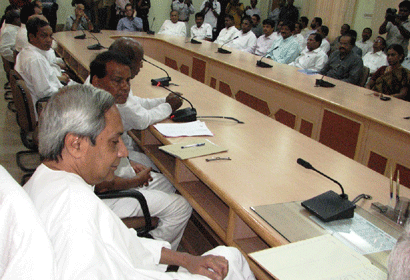 Sisir Saras, the 10-day annual national expo of handicrafts by the rural artisans, kicked off at the Exhibition Grounds here on Saturday. Chief Minister Naveen Patnaik inaugurated the event that is being hosted by the Department of Panchayati Raj of the State Government and Orissa Rural Development and Marketing Society (ORMAS). Ministry of Rural Development has funded the show.In his inaugural address, Naveen emphasised on elimination of the middlemen in sale of the products made by the rural artisans.Such events would establish a direct meet between the seller and the buyer, he said.The Chief Minister also urged upon the administration and concerned agencies to involve more numbers of SHGs (Self Help Groups) in such exhibitions to facilitate sale of their products.
Naveen later launched the bazaar-on-wheel project that would have mobile vans selling the products of the SHGs at the doorsteps of the people across the State.The expo has participation of 726 artisans and crafts persons from 20 Indian states who have exhibited their products in 275 stalls on the sprawling Exhibition Grounds. ORMAS has mounted 18 exhibitions during the current financial year across Orissa, informed Panchayati Raj Minister Prafulla Samal, who was also present on the occasion. Concerned Commissioner S.N.Tripathy and ORMAS Chief Executive B. N. Das were also present.The expo that would remain open daily from 2 p.m. to 9 p.m. would have daily cultural shows by 20 troupes.