Holi festival splashes colour of happiness in Orissa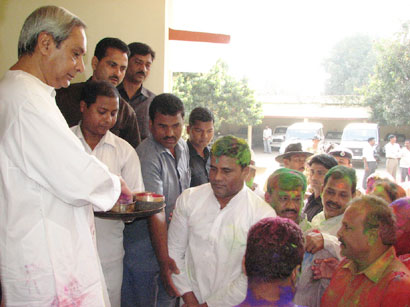 Holi, the festival of colours was on Monday celebrated across the state with great fervour and gaiety. Holi saw common people spill out onto the streets to smear each other with abir powder. Streets in the capital city presented a festive look on the occasion of Holi today and people danced away to the beats of drums, splashed colours and water on friends and family members. The children were also seen playing holi on passers by.

Chief Minister Naveen Patnaik also played holi with leaders and other party workers at his residence Naveen Niwas. Patnaik also greeted the people of the state on the occasion. Moreover, he played holi with some physically challenged children and other people. Pradesh Congress president KP Singhdeo celebrated the day with party men at party office. BJP state chief Jual Oram also played with party men in party office.

In the riot hit Kandhamal district Christians joined Hindus to celebrate with enthusiasm. In temple town Puri foreign tourist celebrates the festival of colours with much more fanfare. Cultural programes were also held to mark the occasion. However, Holi celebrations were all that smooth everywhere.