JSL Limited signs MoU with Orissa Government for setting up steel park at Kalinga Nagar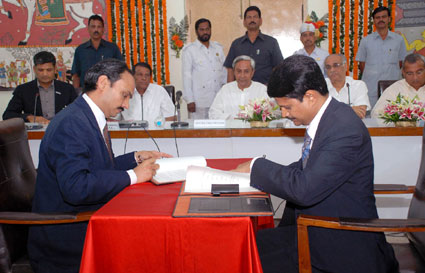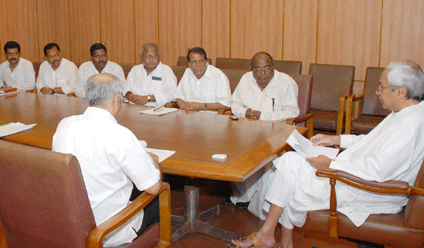 JSL Limited has signed a memorandum of understanding (MoU) with the Orissa government on Wednesday for setting up a stainless steel park at Kalinga Nagar Industrial Estate in Jajpur district with an investment of Rs 704 crore. The MoU was signed by the Chief Resident Manager of JSL Limited Rajeep Mohanty, and Director of Industries (Orissa Government) Hemant Kumar Sharma in presence of the Chief Minister Naveen Patnaik and Industries minister Raghunath Mohanty , and the Vice -Chairman and Managing Director of JSL Limited Ratan Jindal .Proposed project to be set up over 300 Acres of land, the park will accommodate 71 units, including a service centre adjacent to JSL's integrated stainless steel plant at Kalinga Nagar. This would be a natural extension to its 1.6 million TPA Integrated Stainless Steel project as units set up in this Stainless Steel Park will use the finished products from JSL plant. This would also help the units in getting assured supply of their key raw material.Speaking on the occasion, the Chief Minister Naveen Patnaik said The Government of Orissa for the last one decade has been following a policy of value addition within the state as far as minerals are concerned. As a result , Orissa is emerging as the metal, mining and manufacturing hub of country. As many as 29 steles plants have come into production. Similarly alumina and aluminum production has witnessed a quantum jump. We are how ever not content with production of the basic mental. The state is now poised to move up on the ladder of industrialization by establishing more and more ancillary and down stream industries. The huge investment in steel. Aluminum and power and other allied sector will create vast opportunities for ancillary and down stream industries in the small and medium sector in Orissa.The Chief Minister said our government has welcomed these investment to the state to achieve rapid economic development through inclusive growth. In addition to the industrial policy Resolution of 2007, the government of Orissa has also comes out with a special policy for the micro, small and medium enterprises in 2009. This policy is intended in provide a fillip to employment generation, development of local entrepreneurship, dispersal of industrial activities and utilization of local skills and resources.Apart from fiscal and non-fiscal benefits , there are provisions for development of dedicated infrastructure like industrial parks for these industries. The IPR seeks to promote ancillary and downstream industrial parks at all major industrial hubs to leverage the presence of large and mega industries in the state. The present MoU is a step in that direction.Further the Chief Minister said We have already signed an MoU with NALCO for establishment of an Aluminum Park at Angul recently. This initiative for a Stainless Steel Park with the JSL is the second one. We are also planning to set up similar Downstream Parks in Metal sector in other locations as well. In November 2009, a workshop had been held to mark the Micro , Small and Medium Enterprises aware of such opportunities that are being developed. I am sure that these initiatives will open a new opportunities for the MSME sector in Orissa and create complete employment opportunities for our people. I am happy to see that along with signing of the MoU for the downstream Parks, the promoters of the Park M/S JSL Ltd. Are also signing Letters of Intent with investors from Bhubaneswar, Kolkata, Mumbai and Delhi for manufacturing value added 3d products in the proposed park.
JSL Vice - Chairman Jindal said the proposed park would generate direct and indirect employment opportunities for about 3800 and1200 persons, respectively. He added that the project would ensure high tax receipts of around Rs 140 crore for the state government in the first five years in terms of excise and income tax value added products. As per the MoU, JSL will develop the park and provide all infrastructures like boundary wall, roads, drains, research and development centre, power and water supply, railway network, township, school and hospital.Architectural products, surgical and hospital equipment, hardware, stamping and forging, cold rolling, and re-rolling mills, tube and pipes, heat exchangers, heavy machinery capital goods, kitchenware, lifestyle products and stainless steel composite panel manufacturing units will come up in the park. To mark on the occasion, five companies Empowertrans Private Limited, Jagadamba Exports, Jupitor India, Kraftsware Limited and Kitechen Essentials signed MoUs with the JSL Limited government to set up down stream industries.