Kumar Mangalam Birla meets Orissa CM; Happy with pogress of Orissa projects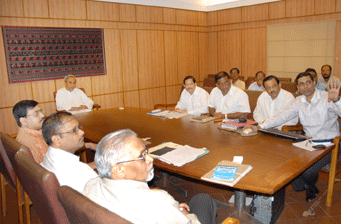 Birla Group chairman Kumar Mangalam Birla meets Orissa Chief Minister Naveen Patnaik at the State Secretariat on Tuesday. He expressed his happiness over the progress of his projects after calling on the chief minister Naveen Patnaik here on Tuesday.
The company is working on three projects in the state for which it had signed MoU with the state government in the past. While the company would set up Utkal Alumina plant worth Rs 4000 crore in Rayagada, it had signed a pact to build an Integrated Aluminium Complex at the cost of Rs 11500 crore in the state. Besides, Aditya Birla Group had entered into an agreement with state government in November 2006 to set up a cement plant in the state. "We are also planning to open another unit near Hirakud," he said. Birla expressed satisfaction over the State Government's help to the company in executing various schemes.