Naveen Patnaik announces Rs 8 Lakh Rupees ex-gratia to land mine blast victims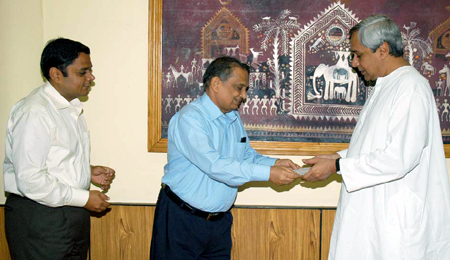 The Chief Minister Naveen Patnaik has announced 8 Lakh Rupees from the state government to the family of the died SOG Jawans in Land Mine Blasting on Sunday in Malkangiri district, besides, Rs 10 lakh Insurance Money and service to one family member.

Two injured Jawans have been shifted to Visakhapatnam by helicopter . Now the SOG have started flag march in Koraput town. "I would like to condemn the savage and cowardly act of the Maoists at Koraput today on SOG jawans. The naxals are behaving in brutal and totally unlawful manner. Our security forces are making tremendous effort to fight the terrible menace," Patnaik said.

It should be noted that the Maoists rebels have once again shown their dominance over the COPS,by triggering a powerful explosion that killed at least nine Special Operation Group(SOG) commandos at Mantriamba,some 10 km from Govindpalli at about 11.00 am today.The rebels probably hiding in the near by forest area adjacent to the place triggered the blast,when the SOG commandos boarding in three different Cityride Buses were on the way to Govindpalli to ensure road clearance for the CRPF personnel's journey to Koraput. Of three vehicles, the first one has been blown into pieces due to the high intense explosion .

After the arrival of the Border Security Forces in Malkandiri two days back,the CRPF personnel's were camped at Govindpalli this morning for road clearance to proceed to Koraput. Many more have been injured in the blast admitted into the Jeypore Government Hospital. The Koraput-Malkangiri district boundaries have been sealed after the incident and police are on high alert in the both the districts.Malkangiri S.P Anirudha Singh and Koraput S.P have arrived at the site and combing operation in the area has been intensified.