Naveen Patnaik holds meeting of NREGS parishad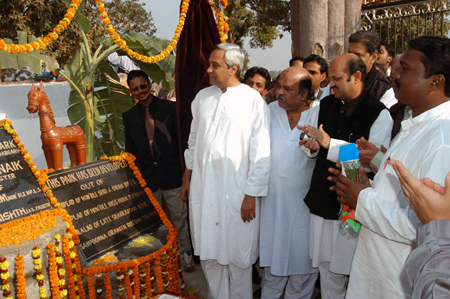 The National Rural Employment Guarantee Scheme [NREGS] parishad meeting held on Tuesday under the Chairmanship of the Chief Minister Naveen Patnaik. The Chief Minister has expressed that During the current year 2010-11 20 lakh family will be provided for employment for at least 100 days and the budget for Rs 1908 crore has been sanctioned, which is double in comparison to the last year .

The payment will be made through the Bank account .The Chief Minister expressed that during the year 2009-10 13.83 lakh families has been given employment with the expenditure of 917.95 crore. The labourers will be paid through Biometric card of Btate Bank of India. For the successful implement of the scheme the Chief Minister awarded concerned Gram Panchayats, Panchayat Samities and Collectors. Muniguda Panchayat ( Kandhamal district ) Sarpanch Rajib Patra, and Pankadihi ( Sundergarh district ) Sarpanch Rajen Lugun stands first position. Tarasini (Ganjam district ) panchayat Sarpanch Srikanta Dalabehera and Alandi (Sundergarh district) panchayat Sarpanch Augustus Kero stands second position. Kisinipadar ( Kandhamal district) sarapanch Babulal Pradhan and Turumu ( Ganjam district) sarpanch Udayanath Guda stands third position. Firingia Block BDO Purandar Pujhari stands first position, Muniguda BDO Srital Eka second position and Hinjilikatu BDO Ashok Behera stands third position. Ganjam district first, Kandhamal district second and Mayurbhanj district third position. All of them received award from the Chief Minister.

Among others Panchayati Raj Minister Prafulla Samal, Chief Secretary Tarunkanti Mishra , Development Commissioner Satyaprakash Nanda, Agriculture production Commissioner Rabinarayan Senapaty and different Secretaries and members of the Parishad were present.