Naveen Patnaik meets supporters of POSCO project, assures good package for displaced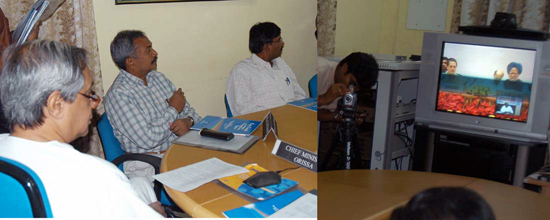 A 15 members representatives of Joint Coordination committee of Posco supporters meet Chief Minister Naveen Patnaik on Friday evening in the Orissa Secretariat. The delegation headed by Agriculture Minister Dr Damodar Rout, legislature Prasanta Muduli, and MP Bibhu Prasad Tarai meet CM.

President of the Joint Coordination Committee Anadi Raut, Secretary Nirvay Samantaray have submitted a 29 point demand memorandum to the Chief Minister and requested the Chief Minister to visit Posco site.

Among the demands they have demanded Rs 40 lakh per Acre for Agriculture land and Rs 25 lakh for Pan Baraj (Bittle leaf farm) and to shift the displaced families from the temporary shelter camp to their home before survay.

The Chief Minister Naveen Patnaik told them that a eye caching good package is being preparing. The administration will look after the law and order situation and try to establish peace in the area. The Chief Minister also agreed to visit the place in proper appropriate time.

Among others RDC Pradip Mohapatra, Collector Narayan Jena, Principal Secretary of the Chief Minister Bijaya Patnaik were present.