Orissa CM Naveen Patnaik demands one hundred crore for agriculture mechanization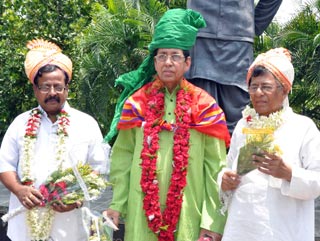 Chief Minister Naveen Patnaik has demanded at least one hundred crore for agriculture mechanization. The meeting was chaired by the Prime Minister Man Mohan Singh. Chief minister Naveen Patnaik expressed that the use of agriculture mechanism is very low. The state government has introduced a new agriculture policy in the state. Those districts are not included in the National Horticulture Mission , to be included in the mission. The centre government should supply more food grains to Orissa.

The subsidy on sugar to be declared and the sugar quota of Orissa to be increased for the BPL families in the state. Steps has been taken to check up black marcket. Up to the month of November 2009, 65thousand 166 godowns have been verified. Total 1,604 cases of misappropriation has been detected and seven persons have been arrested. Now 56 lakh families have been provided Rs 2/- a kg rice. A pilot project is working in Rayagada. If it will be successful, it will be extended to other districts. In this project the women self help groups have been engaged. Now it is badly required to supply Dal by the centre government in subsidized rate.