Orissa CM Naveen Patnaik visits in Jajpur, Balesore, inaugurates several projects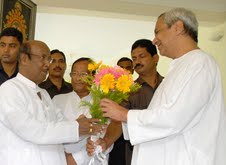 Chief Minister Naveen Patnaik today visits Jajpur, Balesore districts and inaugurates several projects. He inaugurates Bahgabanpur-Nalakul bridge over Kelua River in Dharmasala constituency. Chief minister also laid the foundation stone of the proposed center of the fire brigade here. The cost of the project has been pegged at Rs 43 lakh. Besides he also inaugurated Kaema-Rambahpur road which was constructed at the cost of Rs 6 crore. The road will facilitate the growth of tourism and connect the world famous Buddhist sites in this region.

Chief Minister said his Government is keen on developmental projects and it is functioning for the all round progress of the State. The Chief Minister also focused over the growth of education, agriculture and general health for the people. The bridge over Kelua River will connect the roads from Baruhan to Balichandrapur and would benefit lakhs of people in this region. About Rs 11 crore has been spent for the construction of the bridge.

Among others, Finance Minister, Prafulla Gahadai, Women and Child Development Minister Pramilla Mallick, Bari MLA Debasis Nayak, Korai MLA Priti Ranjan Gahadai, Jajpur MLA Pranab Prakash Das, Rasulpur block chairman, Naresh Cahndra Mohanty also spoke. Dharamsala MLA. Kalpataru Das presided over the meeting.

During his visit to Balasore district the Chief Minister attending a function at Simulia of a college. He said the State Government is emphasising on human resources development and quality education. The Government in its initiative has established prestigious institutions IIT, IIET, NISER, IM and Central University in the State . He laid the foundation stone of a college building and inaugurated the centenary function of the Bati Nodal School and laid foundation stone of fire station building at Ada.