Orissa CM reviews security arrangement in state; Jagannath Temple in Puri under security threat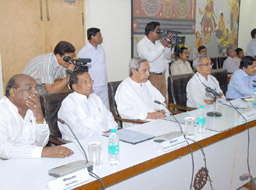 Orissa Chief Minister Naveen Patnaik on Tuesday reviews security arrangements to combat Naxalism in the state. While reviewing the security arrangements in the state, Naveen asked the Naxal-infested districts to keep a close vigilance in border areas adjacent the Naxal-ravaged states like West Bengal, Jharkhand, Chattisgarh and Bihar.

Apart from taking stock of security apparatus in Naxal-hit regions, the state government even asked the authorities to beef up security in no-Maoist zones. A high-level review meeting was held under the chairmanship of Chief Secretary TK Mishra to take stock of the security cordon around the temple in Puri. Briefing about the meeting, Temple Chief Administrator Ashok Meena said all the existing 14 Close Circuit Televisions (CCTVs) installed in the premises of the temple would be upgraded. It was also decided that all hotels in Puri would come under a security cover and strict vigil would be maintained on the movement of the suspicious elements on the Puri beach. Later, the Puri SP apprised Chief Minister Naveen Patnaik on the security arrangements at Jagannath temple as it stands amongst the high risk category shrines in the country.

After reviewing the law and order situation, the chief minister informed that the massive anti-Naxal operation, which is hanging fire due to the delay in arrival of Central forces, would start soon in southern and northern parts in the state. Chief secretary T K Mishra said at least five battalions of the CPMF were likely to arrive very soon. The anti-Naxal operation is likely to kick start in end end of the month, sources said.