Orissa CM seeks more Central forces for anti-naxal operations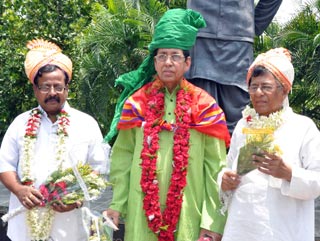 Orissa Chief Minister Naveen Patnaik on Sunday demanded deployment of more Central paramilitary forces to tackle naxalites in the state.

Speaking at the CMs' conference on internal security here, he said, "We have requested the government for deployment of another five battalions of Central paramilitary forces in the northern districts because this portion shares its borders with West Bengal, Jharkhand and Chattisgarh."

Five battallions of Border Security Force have been deployed in southern Orissa recently.

He also requested for grant of funds to sustain its efforts in the battle against Left-wing extremism, and to build a more robust internal security system.

"We have requested the Central government for a grant of Rs 300 crore. This will be utilised for the construction of Vijayawada-Ranchi Road because connectivity is of prime importance for tackling extremism. This road passes through the Maoist-affected districts of three states," he said.

In an anti-naxalite move, the state has adopted a new method wherein tribal youth in the age group of 18 to 25 in the Naxalite affected districts are recruited as trainee special police officers.

He said the special operation group, an anti-Naxalite force of about 2000 personnel, set up by the government was carrying out regular operations in the affected areas.

Further, more than 100 new police stations have been set up in the last couple of years and the existing ones have been strengthened and equipped with modern arms and communication equipment.