Orissa Finance Commission submits report, asks government to strengthen local bodies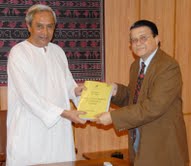 A five members delegation of the state Finance Commission headed by its Chairman Sudhakar Panda has presented the final report of the Commission consisting of 264 pages to the Chief Minister Naveen Patnaik on Thursday. The Commission has recommended for a financial assistance of Rs 4480.85 crore for the development of Gram Panchayats and Urban Local Bodies in the next five years and given stress on girl education.
Besides Rs 4480.85 crore, the Commission also earmarked Rs 2641.60 crore under grant-in-aid (GIA) category. It suggested grant of Rs 2220.25 crore for Panchayati Raj Institutions (PRIs) and Rs 421.35 crore for urban local bodies (ULBs). The commission in its report asked the state government to strengthen PRIs and ULBs as they directly reach the people in rural and urban areas respectively.This apart, the commission also suggested the PRIs and ULBs to generate more revenue from their internal sources as the work load on them was increasing by the day.After submitting the report the Chairman Dr Panda told the mediapersons that The dropout still continuing in primary, Upper primary and High School stage. It should be stopped. The Commission has recommended to deposit in the name of girl students of primary level @ Rs 150/- and in the high school stage @ Rs 200/- .It has been identified 186 Blocks backward in education . The Commission has also recommended to appoinr teachers in the vacant schools. The Commission has recommended for financial assistance of Rs 308.87 crore to the education backward Blocks .The Commission has recommended financial assistance of Rs 478.40 crore for rural water supply , Rs 94.25 crore for maintenance of village cremation grounds, Rs 62.80 crore for medicinal plants, and Rs 124.68 crore for sanitation . The Commission has also recommended for a financial assistance of Rs 150 crore for construction of houses for urban poor.
All the members of the Commission Sailendra Narayan Sarangi, Bijaya Kumar Mohanty, Rabi Ranjan Mallick and Swepneswar Baya were present.