Orissa government demands Rs 50 crore diesel subsidy from Centre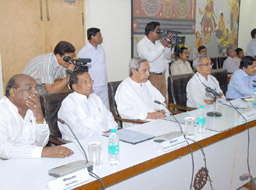 With 106 of the state`s 314 blocks facing a drought-like situation due to inadequate rainfall, the state government on Friday demanded Rs 50 crore from the Centre as deserve subsidy for farmers.

The state government has suggested that the funds be allocated from the Rs 500 crore deserve subsidy which the center gives to the state.

Special Relief Commissioner (SRC) Nikunja Kishore Sundaray told the mediapersons here on Friday "We have asked the Centre to immediately release Rs 50 crore for meeting deserve demands of drought-hit farmers to run pump sets . A report in this respect has given on 20th August and 8th September . The final report will be submitted by the state after 30th September .

It is to be mentioned here that last year 18 districts affected in the drought and the losses calculated to Rs 1322 crore. The Central team visited the drought affected areas .The Union Agriculture Minister Prof. K.V.Thomas expressed in reply to the question of Rajyasabh MP Rudranarayan Pani to provide Rs 152 Crore . But till the central government has not released the funds. The Chief Minister Naveen Patnaik on 16th March wrote a letter to the Union Ministry ro release the funds. But the state government has not yet received the funds or its reply.

Earlier on Sep 22, Chief Minister Naveen Patnaik after reviewing the drought-like situation had asked the district collectors to submit reports on crop loss on the basis of eye estimation. He had also issued direction to the agriculture and water resources department to take steps for survival of existing kharif crops in drought-hit districts.