Ultras to coast, Naveen lists priorities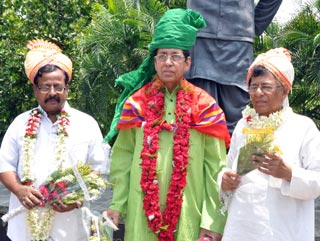 In order to sustain the efforts of the State Government in its fight against the Leftwing extremism (LWE) and build a more robust internal security system, Chief Minister Naveen Patnaik has demanded deployment of another five battalions of paramilitary forces in the northern districts of Orissa which share boundaries with West Bengal, Jharkhand and Chhattisgarh.

Addressing the internal security meet convened by Prime Minister Manmohan Singh in New Delhi today, Naveen said that this should be in addition to the five battalions of Border Security Force assigned to South Orissa recently by the Centre.

As connectivity is of prime importance for tackling extremism, the Chief Minister requested an additional outlay of Rs 300 crore for the proposed Vijayawada-Ranchi Highway as it will pass through the Maoistaffected districts of Andhra Pradesh, Orissa and Jharkhand.

Naveen said that concrete roads in tribal villages of Malkangiri and Koraput districts under the Pradhan Mantri Gram Sadak Yojana (PMGSY) will go a long way in improving the road network in the inaccessible areas of these regions.

Besides, he demanded that norms of PMGSY should be relaxed for covering villages having population of 100 and above as the affected areas are sparsely populated.

Reiterating the commitment of the State Government to strengthen the internal security system, Naveen observed that a holistic approach is required to meet the challenge of LWE. The State Government has taken a number of steps with regard to the development of the affected districts, he said.

Since displacement of families for projects is a burning issue, a liberal rehabilitation and resettlement (R&R;) policy has been put in place, he said and added that the land rights of the disadvantaged groups, particularly the tribal land rights, have been adequately protected through legislation.

The initiatives include a ban on land transfer to non-tribals, Naveen said, adding that about 1.2 lakh land titles have been distributed to the transitional forest dwellers covering an area of more than 1.8 lakh acres.

The State Government has initiated several measures to strengthen the internal security apparatus by drawing upon its own internal resources. It has completed raising of the Special Operations Group (SOG), a dedicated anti-Naxalite force of about 2,000 in the last two years and it is regularly deployed for anti-Naxalite campaigns, he said.

A programme of recruiting tribal youth in the age group of 18 to 25 in the Naxaliteaffected districts as trainee special police officers (SPOs) has been initiated and the response has been positive, he said.

Stating that steps have been taken to strengthen coastal security by operationalisation of five coastal police stations, Naveen demanded sanction of more police stations to cover the entire coastline and training of the State Police by the Coast Guard.

Naveen said that 100 police stations had been opened during the last couple of years and the existing ones have been strengthened by equipping them with modern arms and communication equipment.