Atanu Sabyasachi Nayak | MLA Profile
MAHAKALAPADA CONSTITUENCY
Reservation Type:- General
Fifteenth Assembly (18/05/2014-Running)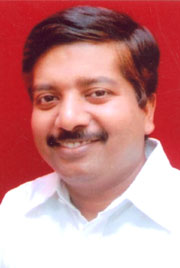 Ph:2503553 2554996 M-9437048229

DATE OF BIRTH:07/05/2022
PARENT:Shri Raj Kishore Nayak
MARITAL STATUS:Married
QUALIFICATION:B.A LLBP.G. in Management (Marketing) from IMM New Delhi
PROFESSION:Social Work
HOBBY: Reading writing features articles in newspapers
FAVOURITE PASTIME:Travelling
SPECIAL INTEREST:To travel different places and write articles on different social issues
SOCIAL ACTIVITIES:Worked as a team leader of volunteers during last Super Cyclone worked extensively during 2002-2003 flood in the Kendrapada-Patkura areas
CULTURAL ACTIVITIES:Received `President Scout Certificate` during school time received
LITERAL ACTIVITIES:During school & college time started writing in different magazines and newspapers.
ADDRESS:
Qrs. No.-VIA-1/1 Unit-I Bhubaneswar & Plot No.-112 Satyanagar Bhubaneswar
9437571020
PERNAMENT ADDRESS:
Vill-Arilo PO-Sanadhanga Via-Tendakuda Dist-Kendrapara
---
OTHER INFORMATION:
General Secretary B.J.D. President Orissa Mining Corporation Employees Union Bhubaneswar Former State President Biju Yuva Janata Dal Orissa Director Orissa Rural Integrated Development Agency a state level N.G.O. Mmber Orissa University of Agriculture and Technology Bhubaneswar President Patkura vikas parisad President L.N. Mohavidyala Patkura Editor `Sankalpa` leaving service from a corporate sector joined `Anupam Bharat` a daily newspaper as corespondent of Bhubaneswar. Then joined `Prajatantra` as special corespondent Bhubaneswar. Highlighted various important issues during his journalism career Associated with many religious organisation like Nilachal Saraswat Sangha of Thakoor Nigamananda Namacharya Bayababa Associated with Asureswar Gomangal Samity a state level N.G.O. for cattles.
BOOKS WRITTEN:Editor `Sankalpa` a magazine on regional issues.
---
---
CONSTITUENCY AREA:Constituency information will be updated soon.
---
MLA News:Mla News will be updated soon.