Badrinarayan Patra | MLA Profile
GHASIPURA CONSTITUENCY
Reservation Type:- General
Fifteenth Assembly (18/05/2014-Running)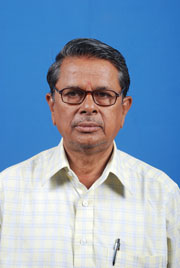 Ph:06731 - 73073

DATE OF BIRTH:14/11/2022
PARENT:Shri Kshyamaker Patra
MARITAL STATUS:Married
SPOUSE'S NAME:Smt. Swarnaprava Patra.
QUALIFICATION:M.AEconomics
PROFESSION:Agriculturist
HOBBY: To watch sports in T.V.
FAVOURITE PASTIME:Gardening
SPECIAL INTEREST:Reading magazines and journals.
SOCIAL ACTIVITIES:Involvement in youth welfare activities through youth clubs.
COUNTRY VISITED:Nepal
PERNAMENT ADDRESS:
At/P.O.-Garbandhagoda Dist.-Keonjhar.
---
OTHER INFORMATION:
Left service as Lecturer in Economics and entered politics in 1989.
---
---
CONSTITUENCY AREA:Constituency information will be updated soon.
---
MLA News:Mla News will be updated soon.
Badrinarayan Patra History



1. Biju Janata Dal
15(th)
GHASIPURA
2. Biju Janata Dal
14(th)
GHASIPURA
3. Independent
12(th)
RAMACHANDRAPUR
4. Janata Dal
10(th)
RAMACHANDRAPUR

---