Balabhadra Majhi | MLA Profile
LANJIGARH CONSTITUENCY
Reservation Type:- Schedule Tribe
Fifteenth Assembly (18/05/2014-Running)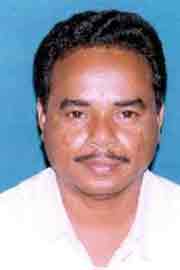 Ph:418278 M- 9437018278 2507354

DATE OF BIRTH:02/06/2022
PARENT:late Srabanu Majhi
MARITAL STATUS:Married
SPOUSE'S NAME:Smt. Shreemati Majhi
QUALIFICATION:B.A
PROFESSION:Agriculturist
HOBBY: Gardening
FAVOURITE PASTIME:For upliftment of the downtrodden people.
SPECIAL INTEREST:Social work
SOCIAL ACTIVITIES:Work for the upliftment of the downtrodden people (Kutia Kandha organisation and uneducated S.C./S.T. people strengthening the Youth activities all over the state).
CULTURAL ACTIVITIES:In the year 1982 participated in Asiad Game`s cultural programme at New Delhi
LITERAL ACTIVITIES:Kutia Kandha Folk Songs.
SPORTS AND CLUBS:Best Foot ball player in the year 1983 Inter College Foot ball turnament (S.U.) Junior district Foot ball player.
COUNTRY VISITED:China South Korea Malaysia Philipines Japan Thailand Singapur Hongkong
ADDRESS:
Qr. No. 6/2 (F) Unit- IV M.L.A. Colony & B-5 Unit-II Bhubaneswar.
32818 (95-6677) 245078
PERNAMENT ADDRESS:
Vill.-Dangajore P.O.-Bandhapari Via- Biswanatha pur Dist.-Kalahandi.
---
OTHER INFORMATION:
Vice-president Indo-China Society India President ST & SC Scout & Guide India Participated in the party rally by by-cycle from Matili to Bhubaneswar and Pada Yatra from Kalahandi to Katni Cycle Yatra from Bhubaneswar to New Delhi to meet the Prime Minister for the affected people of super cyclone affected areas. Distributed medicine and relief materials in the cyclone area Sarapanch Bandhapari G.P. - 1984-85 Vice- Chairman Lanjigarh P.S. - 1985-90 General Secretary of Janata Dal- Kalahandi district State General Secretary Biju Janata Dal Orissa President of Maa-Hiranila College Biswanathpur P.S. College Narla Bijayananda College Talapada and Maa Manikeswari College P.S. Rampur Kalahandi Member Bubaneswar Club and State Biju Yuva Janata Dal President Orissa Member State Level Natural Calamities Committee Member TAC Received Dadabhai Naroji Millennium Award from His Excellency the Governor of Maharastra in June 2003 Received best youth Minister Award on 29.01.03 from Academy of Mas Communication for the outstanding performance for the upliftment of ST & SC & Backward people of Orissa.
---
---
CONSTITUENCY AREA:Constituency information will be updated soon.
---
MLA News:Mla News will be updated soon.
Balabhadra Majhi History



1. Biju Janata Dal
15(th)
LANJIGARH
2. Biju Janata Dal
13(th)
NARLA
3. Biju Janata Dal
12(th)
NARLA
4. Janata Dal
11(th)
NARLA
5. Janata Dal
10(th)
NARLA

---