Bishnu Charan Sethi
MLA DHAMNAGAR(SC) CONSTITUENCY
Reservation Type:- Schedule Cast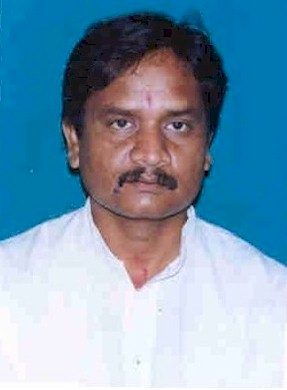 DATE OF BIRTH:05/06/2022
PARENT:Shri Gayadhar Sethi
MARITAL STATUS:Married
SPOUSE'S NAME:Smt. Urmilarani Panigrahi
PROFESSION:Politics Transport Business
HOBBY: Writing on Short stories poems literature dramas and song.
SPECIAL INTEREST:Historical Studies
SOCIAL ACTIVITIES:To enjoy the life among the distress people day to day.
CULTURAL ACTIVITIES:Yearly I arrange one cultural programme in state level.
LITERAL ACTIVITIES:Keen interest in reading oriya literature and local historical themes.
SPORTS AND CLUBS:President Vishab Sanskrit Sammukha Tihidi.
TELNO:9437051090 ,
PERNAMENT ADDRESS:Vill.-Mangarajpur P.O.-Tihidi Dist.-Bhadrak.

---
OTHER INFORMATION:President BJP Bhadrak District Ex-Sub-editor the news weekly "Bishesh Khavara" Founder Secretary of M
A
English Medium School Tihidi Bhadrak Ex-vice President of BJP state scheduled Morcha Ex- secretary BJYM Orissa state National Council member of BJP Member Telephone Advisory Committee Balasore Telcom district

BOOKS WRITTEN:Un published poem collection (Auta Dukhara Khetraphala)
---
NEWS: News section will be updated soon.


---
Gallery: Gallery section will be updated soon.


---
CONSTITUENCY AREA:
ACHAK ,
ANANDAPUR ,
ARJUNPUR ,
ASURALI ,
BAMKURA ,
BARO ,
BAYANGDIHI ,
BHAGABANPUR ,
BHATASAHI ,
BILANA ,
BODAK ,
CHUDAKUTI ,
DAIPUR ,
DALANGA ,
DHAMNAGAR ,
DHUSURI ,
DOBAL ,
DOLASAHI ,
FATEPUR ,
GOVINDAPUR ,
GUAMAL ,
HASNABAD ,
JAYNAGAR ,
KALYANI ,
KANPADA ,
KARADA ,
KASIMPUR ,
KATASAHI ,
KHADIPADA ,
KHAPARPADA ,
KOTHAR ,
KUBERA ,
NADIGAON ,
PADHANI ,
PALASAHI ,
PALIABINDHA ,
RADHABALLAVPUR ,
RAIPUR ,
SOHADA ,
SYAMSUNDARPUR ,
TALAGOPABINDHA ,
TALAPADA ,
Bishnu Charan Sethi History(Assembly records)
| | | |
| --- | --- | --- |
| 1. Bharatiya Janata Party | 16(th) | DHAMNAGAR(SC) |
| 2. Bharatiya Janata Party | 12(th) | CHANDABALI |
MLAs of DHAMNAGAR(SC) Constituency
Home
Profile
Initiatives
Family
The Writer