Brundaban Nayak
MLA HINJILI CONSTITUENCY
Reservation Type:- General
Eighth Assembly (09/06/1980-09/03/1985)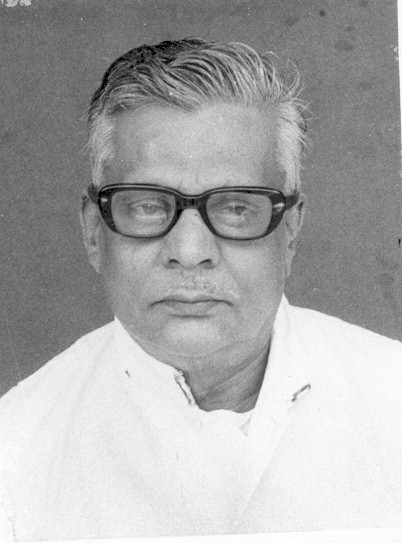 PARENT: Shri Damodar Nayak
MARITAL STATUS:Married
SPOUSE'S NAME:Smt.Satyabhama Nayak
QUALIFICATION:I.A
PROFESSION:Business Cultivation
HOBBY: Gardening and Horticulture.
FAVOURITE PASTIME:Reading.
SOCIAL ACTIVITIES:Social Work; Establishment of Educational Institutions.
PERNAMENT ADDRESS:At.-Syasan AmbagamP.O.-BerhampurDist.- Ganjam.

---
OTHER INFORMATION:Joined Indian National Congress 1932; President Ganjam D
C
C
; Member U
P
C
C
since 1936 and 1940; Member Ganjam District Educational Council 1937; Chairman Berhampur Municipality 1953-1969; Vice-President Khallikote College Managing Committee 1963 and continued for 4 years; took active interest for the opening of Post-graduate Class and Teachers Training College and Science College in Hinjili and Khalikote; President: Ganjam District Hindi Prachar Sabha twice; started several educational inistitutions in Ganjam District; Started in 1980 one Inistitution named; Sanjay Memorial Inistitute of Technology which imparts teaching in A
M
I
E
M
B
A
Costs and Works Accountancy Taxation Law Company Law and Library Science; President: Orissa State Co-operative Land Mortagage Bank for twelve years;President: Co-operative Union; President Berhampur Co-operative Urban Bank; Member: National Co-operative Union of India; Member of the Senate Berhampur University
Date of Birth - 1912

EXPIRED ON:
10/10/2022
OBITUARY MADE IN THE HOUSE ON 14/03/2022
---
NEWS: News section will be updated soon.


---
Gallery: Gallery section will be updated soon.


---
CONSTITUENCY AREA:
BAKODA ,
BEHEDA ,
BOBEI ,
BURJA ,
CHHELIDANGARI ,
DEBAGAM ,
GANJAPARA ,
GONA ,
HALADI ,
HATABHARANDI ,
JALANGAPARA ,
JODENGA ,
KACHARAPARA ,
KAUDOLA ,
KHUDUK ,
KOPENA ,
KOSKONGA ,
KUMULI ,
KUNDEI ,
KURABEDA ,
KURSHI ,
MOHOND ,
MUNDIBEDA ,
MURTUMA ,
NAKTISIMDA ,
PARCHIPARA ,
PARUA ,
RAIGHAR ,
SEMALA ,
SUNABEDA ,
TIMANPUR ,
TURUDIHI ,
Brundaban Nayak History(Assembly records)
| | | |
| --- | --- | --- |
| 1. Janata(S) Ch.Singh | 8(th) | HINJILI |
| 2. Indian National Congress | 7(th) | HINJILI |
| 3. Utkal Congress | 6(th) | HINJILI |
| 4. Utkal Congress | 5(th) | HINJILI |
| 5. Indian National Congress | 4(th) | HINJILI |
| 6. Indian National Congress | 3(th) | HINJILI |
| 7. Indian National Congress | 3(th) | HINJILI |
| 8. Indian National Congress | 2(th) | HINJILI |
| 9. Indian National Congress | 1(th) | BERHAMPUR |
MLAs of HINJILI Constituency
Home
Profile
Initiatives
Family
The Writer