Debasis Nayak | MLA Profile
BARI CONSTITUENCY
Reservation Type:- General
Fifteenth Assembly (18/05/2014-Running)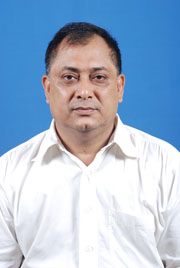 Ph:2536161 Fax-2532253

DATE OF BIRTH:20/06/2022
PARENT:Late Chitta Ranjan Nayak
MARITAL STATUS:Married
SPOUSE'S NAME:Smt. Sujata Nayak
QUALIFICATION:B.AFinancial Management
PROFESSION:Social Service
HOBBY: Reading Public Contact & Sight seeing
FAVOURITE PASTIME:Reading
SPECIAL INTEREST:To know people & to see important places
SOCIAL ACTIVITIES:Associated with several Social Organisations & Institutions for upliftment of poor & down-trodden people. Took leading part in social work at the time of flood cyclone & natural calamities since student life. Superheaded the relief operation in the Constituency during the last Super Cyclone 1999. Took keen interest to make communication to most interior past of the constituency and to supply drinking water to all villages.
CULTURAL ACTIVITIES:Associated with many Cultural Associations
LITERAL ACTIVITIES:Writing articles on current socio-economic problems and also associated with various Literacy Organisation Reading News Paper and Magazines.
SPORTS AND CLUBS:Member of various clubs
COUNTRY VISITED:U.K. Nepal Thailand Singapore U.S.A. France Germany
ADDRESS:
Qrs. No.-VIA-2/2 Unit-1 Bhubaneswar & Plot No.-22Forest Park P.O.-Bhubaneswar-9 Dist.-Khurda. Pin-751009
PERNAMENT ADDRESS:
Vill-Jagannathpur Via-Binjharpur Dist.- Jajpur Orissa
---
OTHER INFORMATION:
Member (1) World Wide Fund for Nature (2) Intach. (3) Eye Bank (4) Youth Hostel Association of India (5) Lions Club of Delhi Kanishka (6) National Rifle Association of India (7) American Library Centre Calcutta (8) Bhubaneswar Club Bhubaneswar (9) Cuttack Club Barabati Fort Cuttack Country Club Hydrabad Zubbillee Hill International Hydrabad Safdarjung Enclave Club New Delhi Ganjam Club Berhampur Patron; (1) Orissa Cricket Association Neelachal Seva Sangh (Jagannath Temple) New Delhi Odissi Akademy Delhi Life Member Gulmohar Club Jamsedpur India International Centre Goa Honorary Member of the Rotary Club of Bhubaneswar Mid-town Rourkela Club Rourkela German Club Rourkela BELDI Club Jamsedpur Associated Member India Habitat Centre New Delhi Private Secretary to Late Biju Patnaik (Ex-Chief Minister) Secretary Janata Dal General Secretary Biju Janata Dal Treasurer Biju Janata Dal General Secretary Janamorcha Student leader and took part to various students` movement Joined active politics in 1990 A stunch follower of Biju Patnaik Sincerely working for Janata Dal Biju Janata Dal for last 10 years Officer on Special Duty to Union Minister of Steel & Mines & OSD to Union Minister of Mines & Mineral (Sri Naveen Patnaik) Member of Senate Berhampur University Vice President Orissa Scouts and Guides and also worked as freelance journalist of Prajatantra Prachar Samity Chairman All India Kalinga Cup Football Tournament 2005 Chairman Organising Committee 17th National Inter Zonal Junior Athletic Championship 2005 Vice Chairman Orissa Council of Sports Member Vijayawada Club Vijayawada Andhra Pradesh.
---
---
CONSTITUENCY AREA:Constituency information will be updated soon.
---
MLA News:Mla News will be updated soon.
Debasis Nayak History



1. Biju Janata Dal
15(th)
BARI
2. Biju Janata Dal
14(th)
BARI
3. Biju Janata Dal
13(th)
BARI-DERABISI
4. Biju Janata Dal
12(th)
BARI-DERABISI

---