Harekrishna Mahatab
MLA BHUBANESWAR CONSTITUENCY
Reservation Type:- General
Sixth Assembly (06/03/1974-30/04/1977)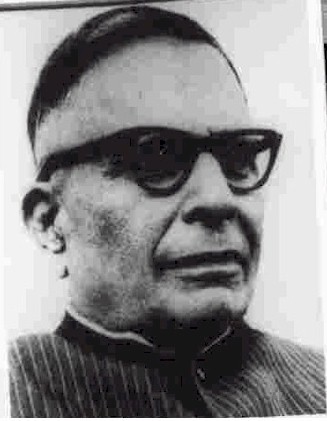 DATE OF BIRTH:21/11/2022
PARENT:Late Jagannath Mahatab
MARITAL STATUS:Married
SPOUSE'S NAME:Smt. Subhadra Devi
QUALIFICATION:I.A
PROFESSION:Journalism Cultivation
HOBBY: Writing in Newspapers
FAVOURITE PASTIME:Study of literature and history
SPECIAL INTEREST:Literature
LITERAL ACTIVITIES:During college career edited two handwritten newspapers Malaya (Oriya) and `Dustbin` (English) another important work which made him prominent then was `Bharati Mandir` an institution were Shri Nabakrushna Choudhury Shri Nityananda Kanungo Shri Bhagirathi Mohapatra during college life was in close contact with Utkalprana Madhusudan Das and Utkal Mani Pt. Gopabandhu Das Editor of Jhankar and writer of novels dramas History of Orissa articles and short stories special attitude of writing `Gaon Majlis` (village topics) in daily `Prajatantra.
COUNTRY VISITED:United States United Kingdom African and Asian Countries.
PERNAMENT ADDRESS:At.-Ekmra Nivas P.O.-Bhubaneswar-2.

---
OTHER INFORMATION:After passing matriculation from Bhadrak High School was admitted in Ravenshaw College Cuttack 1917
During the student career in the School got married to Shrimati Subhadra Devi joined National Freedom Movement 1921 and took active part Started political career from the villages Chairman Balasore district board 1924 to 1929 was very intimated with the villagers from his very young age First and the youngest man from Orissa to become a member of working committee of A
I
C
C
elected twice as President U
P
C
C
Chairman of the State`s People`s Enquiry Committee which recommended merger of the princely States in India during national Movement was imprisoned for 7 times and for a total period of about 8 years; Chief Minister of Orissa from 1946 to 1950 and again from 1956 to 1961 Cabinet Minister of the Central Ministry 1950 to 1952 General Secretary Congress Parliamentary party 1952-1954 Appointed as Governor of Bombay Province 1955-56 Member of Parliament from 1962-67 Deputy Leader Congress Parliamentary Party 1962-63 during this period a parliamentary delegation was deputed to African Countries under his Leadership Chairman of several government committees both at State level and at Centre President of several social and cultural Public organisations At one time was the Pro-Chancellor of the Utkal University and a permanent fellow of this University Doctorate degree in literature and law were conferred upon him by the Utkal Saugar and Andhra Uniersities
He is not only known as a politician but a famous historian writer social and cultural organiser As a writer he is a once poet Essayist Novelist and a good Dramatist
Editor: Prajatantra the daily and Jhankar the monthly
He was President of Sahitya Academy Sangeet Natak Academ and Lalit Kala Academy of Orissa
He was also the Chairman of Orissa Olympic Association Founder of an English Daily `Eastern Times` which subsequently was closed down and again published in 1972 as weekly

BOOKS WRITTEN:Essays and Novels in Oriya: Prativa Toutor Abyapar Gaon Majilis; Drama:Chhaya Pather Jatri Seshashru Andhajuga; History: History of Orissa in two vols. each in English and Oriya "The beginning of the end" and "Call to Action" in English.
EXPIRED ON:
02/01/2023
OBITUARY MADE IN THE HOUSE ON 23/02/2023
---
NEWS: News section will be updated soon.


---
Gallery: Gallery section will be updated soon.


---
CONSTITUENCY AREA:
Achyutibasanta ,
Anaka ,
Arakhpur ,
Badabalikuda ,
Badaghumuri ,
Balichandrapur ,
Balipadia ,
Bandalo ,
Bantala ,
Barchana ,
Barpada ,
Bharatpur ,
Bhusandapur ,
Bikramtiran ,
Byree ,
Champapur ,
Chandital ,
Charinangal ,
Chhatia ,
Darpan ,
Dhanmandal ,
Gopalpur ,
Kaimatia ,
Kolanagiri ,
Kundalo ,
Majhipada ,
Manduka ,
Nalipur ,
Paria ,
Radhadeipur ,
Raipur ,
Salapada ,
Samia ,
Saudia ,
Siha ,
Solar ,
Sungudo ,
Harekrishna Mahatab History(Assembly records)
| | | |
| --- | --- | --- |
| 1. Utkal Congress | 6(th) | BHUBANESWAR |
| 2. Indian National Congress | 5(th) | BHADRAK |
| 3. Congress (R) | 5(th) | BHUBANESWAR |
| 4. Jana Congress | 4(th) | BASUDEBPUR |
| 5. Jana Congress | 4(th) | BHUBANESWAR |
| 6. Indian National Congress | 2(th) | SORO |
MLAs of BHUBANESWAR Constituency
Home
Profile
Initiatives
Family
The Writer