Karendra Majhi | MLA Profile
BALIGUDA CONSTITUENCY
Reservation Type:- Schedule Tribe
Fourteenth Assembly (19/05/2009-18/05/2014)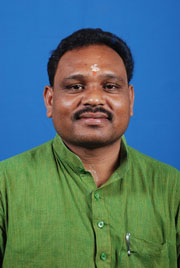 Ph:06846-243668

DATE OF BIRTH:04/01/2023
PARENT:late Pujara Majhi
MARITAL STATUS:Married
SPOUSE'S NAME:Smt. Sajita Pradhan
QUALIFICATION:M.A(Pol. Sc.)
PROFESSION:Agriculturist
HOBBY: Reading news papers
FAVOURITE PASTIME:Visiting historical places
SPECIAL INTEREST:To help downtrodden people in the society
SOCIAL ACTIVITIES:Involved in many social activities such as health camps blood donation camps and mass afforestation programmes.
ADDRESS:
Qrs. No.-8/2 (DS) Unit-IV MLA Colony Bhubaneswar.
PERNAMENT ADDRESS:
Vill-PO-Guma PS- Belghar Via.-Tumudibandha Dist- Kandhamal
---
OTHER INFORMATION:
First post graduate among the Kutia Kandhas in Kandhamal district SC/ST Association President Govt. College Phulbani 1993-95 Janachetana Yubak Sangha President Guma G.P. Level 1990 to 1995 Pahadi Sangram Morcha Leader from 1994 till date Organised the Padayatra from Subarnagir to Phulbani Research Investigator Academy of Tribal Dialect and Culture at Bhubaneswar Translator of other languages into Kui being appointed by A.T.D.C. Bhubaneswar. Block Co-ordinator of Tumudibandha Block- Post literary programme Kandhamal District B.J.P. District Secretary Kandhamal District.
BOOKS WRITTEN:Published 3 Kui language book in Oriya script such as 1. Pilanka Ramayan 2. Dr. B.R. Ambedkar`s Life History 3. Kui Language dictionary
---
---
CONSTITUENCY AREA:Constituency information will be updated soon.
---
MLA News:Mla News will be updated soon.