Mayadhar Jena | MLA Profile
ANANDAPUR CONSTITUENCY
Reservation Type:- Schedule Cast
Fifteenth Assembly (18/05/2014-Running)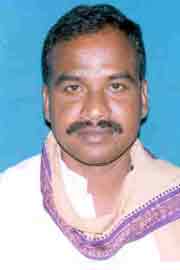 Ph:71001

DATE OF BIRTH:06/04/2022
PARENT:Late Rama chandra Jena
MARITAL STATUS:Married
SPOUSE'S NAME:Smt. Tribeni Jana
QUALIFICATION:B.A
PROFESSION:Social Work
HOBBY: To read biography of eminent persons of world.
FAVOURITE PASTIME:Gossiping with friends
SPECIAL INTEREST:Politics
SOCIAL ACTIVITIES:Continuous efforts for upliftment of the down trodden people of Society
SPORTS AND CLUBS:Organise out-door games like football and cricket through Anchalik Yuba Parisad Hatadihi.
ADDRESS:
Qrs No.-3/3 DS MLA Colony Unit-IV Bhubaneswar
PERNAMENT ADDRESS:
At-Dankuri P.O.-Hatadihi Dist.-Keonjhar.
---
OTHER INFORMATION:
President Anchalik Yuba Parisad Hatadihi Member of Boula Sahitya Sansad Hatadihi Vice-President All Orissa N.M.R. and Work Charged of Water Resources Department
---
---
CONSTITUENCY AREA:Constituency information will be updated soon.
---
MLA News:Mla News will be updated soon.