Pramila Mallik
MLA BINJHARPUR(SC) CONSTITUENCY
Reservation Type:- Schedule Cast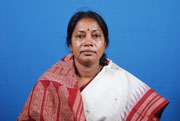 DATE OF BIRTH:04/03/2023
PARENT:Shri Paban Mallik
MARITAL STATUS:Married
SPOUSE'S NAME:Shri Damodar Mallik
QUALIFICATION:B.A
PROFESSION:Social Work
HOBBY: Travelling
FAVOURITE PASTIME:Reading religious books and to devote time with family
SPECIAL INTEREST:To learn from various political thought
SOCIAL ACTIVITIES:Development of weaker section in the society
ADDRESS:Qrs. No.-VII-C-2 Unit-VI Bhubaneswar & Plot No.-1060 Jagmohan Nagar P.O.-Khandagiri Bhubaneswar Dist-Khurda
TELNO:9437002828, 06728-230260
PERNAMENT ADDRESS:Vill./P.O.-Mansada Dist.-Jajpur.

---
OTHER INFORMATION:Associated with politics since College days

---
NEWS: News section will be updated soon.


---
Gallery:
---












---
CONSTITUENCY AREA:
Arei ,
Asanpur ,
Aunri ,
Bachhala ,
Bangara ,
Barapada ,
Bihari ,
Binjharpur ,
Biripata ,
Bitana ,
Chandramu ,
Chasakhanda ,
Chhikana ,
Duttapur ,
Fatepur ,
Gramanandipur ,
Guhali ,
Haladidiha ,
Jari ,
Kaina Raghunathpur ,
Kalyanpur ,
Kamardiha ,
Kapila ,
Kayan ,
Khannagar ,
Mashara ,
Nizampur ,
Oleichandanpur ,
Palatpur ,
Pritipur ,
Ranapur ,
Sasanda ,
Singhpur ,
Thalkudi ,
Tina ,
Udranga ,
Uttangara ,
Uttarkul ,
Pramila Mallik History(Assembly records)
| | | |
| --- | --- | --- |
| 1. Biju Janata Dal | 16(th) | BINJHARPUR(SC) |
| 2. Biju Janata Dal | 15(th) | BINJHARPUR |
| 3. Biju Janata Dal | 14(th) | BINJHARPUR |
| 4. Biju Janata Dal | 13(th) | BINJHARPUR |
| 5. Biju Janata Dal | 12(th) | BINJHARPUR |
| 6. Janata Dal | 10(th) | BINJHARPUR |
MLAs of BINJHARPUR(SC) Constituency
Home
Profile
Initiatives
Family
The Writer