Pramod Kumar Mallick | MLA Profile
NIALI CONSTITUENCY
Reservation Type:- Schedule Cast
Fifteenth Assembly (18/05/2014-Running)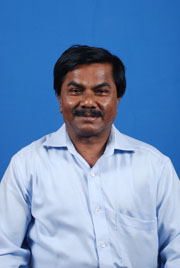 DATE OF BIRTH:15/11/2022
PARENT:Late Panchu Mallick
MARITAL STATUS:Married
SPOUSE'S NAME:Smt. Kanakalata Mallick
QUALIFICATION:M.B.B.S. M.S (Gen Surgery)
PROFESSION:Medical Practitioner
HOBBY: To read recent development journals in the field of Medical Science.
FAVOURITE PASTIME:Service to the poor and needy patients.
SPECIAL INTEREST:To work for strengthening the Health Services in State.
SOCIAL ACTIVITIES:Good Organiser.
CULTURAL ACTIVITIES:During Student life in General College and Medical College was a good stage artist and singer taking part in class college drama.
LITERAL ACTIVITIES:Post graduate degree in Medical Science. Published many research paper in national & international journals of surgery.
SPORTS AND CLUBS:Member of Cricket Association Orissa.
COUNTRY VISITED:Singapore Hongk-Kong Macau Bankok.
ADDRESS:
Qr. No.-J.O.-13 S.C.B. Medical College Campus Cuttack Pin-753007.
drpromodmallick@gmail.com
PERNAMENT ADDRESS:
At/P.O.-Kulashree P.S.-Niali Dist.-Cuttack.
---
OTHER INFORMATION:
Professor and HOD Surgery S.C.B. Medical College Cuttack from March 2006 to March 2009 Additional Post of Administrative Officer S.C.B. Medical College Cuttack May 2003 to August 2008 Organising Secretary ASICON 2007 Organising Secretary OSASICON-1992 and 2001 Honorary Secretary ASI Orissa State Chapter 1996 to 2000 President ASI Orissa State Chapter 2006 to 2007 Honorary Secretary I.M.A. Cuttack Branch 1996 to 2000.
---
---
CONSTITUENCY AREA:Constituency information will be updated soon.
---
MLA News:Mla News will be updated soon.
Pramod Kumar Mallick History



1. Biju Janata Dal
15(th)
NIALI
2. Biju Janata Dal
14(th)
NIALI

---