Purna Chandra Sethy | MLA Profile
KHALLIKOTE CONSTITUENCY
Reservation Type:- Schedule Cast
Fifteenth Assembly (18/05/2014-Running)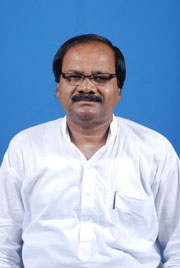 DATE OF BIRTH:21/04/2022
PARENT:Late Chaitanya Sethy
MARITAL STATUS:Married
SPOUSE'S NAME:Smt. Sanjukta Sethy
QUALIFICATION:LL.B. M.A(Labour & Social Welfare)
PROFESSION:Civil Servant
HOBBY: Travelling driving & making friendship.
FAVOURITE PASTIME:Servicing in NALCO as HR Practioner.
SPECIAL INTEREST:To meet different section people and know their difficulties.
SOCIAL ACTIVITIES:To help the helpness & needy people.
CULTURAL ACTIVITIES:Arrangement of Cultural programmes and taking participation in Drama.
LITERAL ACTIVITIES:Preparing for doing P.H.D.
SPORTS AND CLUBS:Volly & Kabadi Discuss throw and zevelin throw.
P.C. Sethy @gmail.com
PERNAMENT ADDRESS:
Vill. Jaganathpur P.o. Mathasonasing P.S. Kodala Ganjam.
---
OTHER INFORMATION:
Deputy General Manager (HR & Admn) Nalco.
---
---
CONSTITUENCY AREA:Constituency information will be updated soon.
---
MLA News:Mla News will be updated soon.