Sadhu Nepak | MLA Profile
BARGARH CONSTITUENCY
Reservation Type:- General
Fourteenth Assembly (19/05/2009-18/05/2014)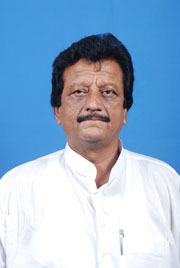 DATE OF BIRTH:28/02/2023
PARENT:Late Kunja Bihari Nepak
MARITAL STATUS:Married
SPOUSE'S NAME:Smt. Pratima Nepak
QUALIFICATION:B.A.
PROFESSION:Social Work
HOBBY: Social Work.
FAVOURITE PASTIME:Spend time with family and friends.
SPECIAL INTEREST:Serving for down-troddens.
SOCIAL ACTIVITIES:Organised Blood donation camp medical camp serving old age people Aforastation programme working for farmers trade union etc.
CULTURAL ACTIVITIES:Advisor of "Bargarh Sangeet Samiti". Advisor of Blu star Association. Advisor of "Dhanujatra Mahostava Committee" Bargarh.
LITERAL ACTIVITIES:Govering body member T.F. College Bargarh.
SPORTS AND CLUBS:Member of Bargarh Athletic Association.
ADDRESS:
Ward No.-6 Bargarh.
PERNAMENT ADDRESS:
Ward No.-6 Bargarh.
---
OTHER INFORMATION:
District Student Congress General Secretary District Youth Congress Vice President Torn Congress Gen-Secretary District Congress Gen-Secretary PCC Member RTA Member Advisor of Leading NGO "CHETANA" Member Governing Body of Trunt Fund College Advisor of Ma Karamsari Kala Parishad A Leading Cultural Institution of Western Orissa.
---
---
CONSTITUENCY AREA:Constituency information will be updated soon.
---
MLA News:Mla News will be updated soon.