Sitakanta Mohapatra | MLA Profile
BARACHANA CONSTITUENCY
Reservation Type:- General
Thirteenth Assembly (15/05/2004-19/05/2009)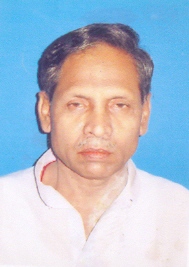 DATE OF BIRTH:23/10/2022
PARENT:Shri Basudev Mohapatra
MARITAL STATUS:Married
SPOUSE'S NAME:Smt. Basanti Mohapatra
QUALIFICATION:B.Sc.
PROFESSION:Journalism Teachership
HOBBY: Reading Books and reporting the local problems in the Newspaper
FAVOURITE PASTIME:Drama and Playing with Children.
SPECIAL INTEREST:Agriculture and Journalism.
SOCIAL ACTIVITIES:Established educational institutions Secretary of four High Schools Rendering necessary help to flood cyclone and drought affected people.
LITERAL ACTIVITIES:Acted as a recognised correspondent of a local daily `Samaj` writing short stories and publisher of the magazine `Jabashree`.
COUNTRY VISITED:America England France East Germany West Germany Japan and Thailand.
ADDRESS:
Qrs. No.-VIR-12 Unit-VI Bhubaneswar & Plot No.- 16 Nayapalli Bhubaneswar Dist.- Khurda.
PERNAMENT ADDRESS:
At./P.O.-Kharjanga Via-Haridaspur Dist.-Cuttack.
---
OTHER INFORMATION:
A student leader Captain Voluntary Corps Ravenshaw College New Hostel in 1963-64 Science teacher Khadianga High School 1967-68 joined Indian Congress being inspired by late Indira Gandhi in 1969 Member of Pradesh Congress Committee P.C.C.(I) in 1971 Member District Employees Association. Secretary D.C.C. (I) from 1972 to 1974 Vice-president of Cuttack District Congress Committee from 1974 to 1977 General Secretary Orissa Textile Mills and President Kalinga Tubes Labour Organisation Vice-Chairman Barchana Yuba Krushaka Parishad in 1970 General Secretary of Barachana Yuba Parishad Member Senate Utkal University from 1980-1981 Member of PUC and Estimate Committee Member of S.T.A. and Committee of Orissa State Government Labourer Organisation 1985-89 President Labour Union Congress of Konark Jute Mill Dhanamandal from 1980-till date Chairman Estimate Committee from 1987-89 Member of P.C.C. Working Committee from 1990 to 2004 General Secretary Orissa P.C.C. and Member A.I.C.C. from 1990-92 President D.C.C. Congress Committee Jajpur from 1998-99 General Secretary O.P.C.C. from 1999-2001 Chairman Disciplinary Action Committee of OPCC and Member of AICC from 2003 to 2004 till date.
---
---
CONSTITUENCY AREA:Constituency information will be updated soon.
---
MLA News:Mla News will be updated soon.