Anjali Behera
MLA HINDOL CONSTITUENCY
Reservation Type:- Schedule Cast
Fourteenth Assembly (19/05/2009-18/05/2014)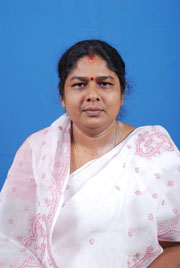 DATE OF BIRTH:04/05/2022
PARENT:Late Trinath Nayak
MARITAL STATUS:Married
SPOUSE'S NAME:Shri Laxmidhar Behera
QUALIFICATION:B.A
PROFESSION:Social Work
HOBBY: Reading Books Magazines News Papers
FAVOURITE PASTIME:Assisting father in his political and social activities
SPECIAL INTEREST:Social Work
SOCIAL ACTIVITIES:Mobilising the children for studies
CULTURAL ACTIVITIES:Taking interest to promote various cultural activities in village level.
LITERAL ACTIVITIES:Organizing debate in school level
SPORTS AND CLUBS:Interest in organising sports in village level
ADDRESS:Qrs.No.-VR-44 Unit-VI & 4R-412 Unit-III Bhubaneswar
TELNO:9437054018,
PERNAMENT ADDRESS:Vill.-Nizigarh P.O.-Hindol Dist.-Dhenkanal.

---
OTHER INFORMATION:My father Late Trinath Nayak elected three times as Member of Orissa Legislative Assembly and also Minister of State for Health and family welfare Zilla Parishad Member Angul Vice-President Biju Yuba Janata Dal Dhenkanal II

---
NEWS: News section will be updated soon.


---
Gallery: Gallery section will be updated soon.


---
CONSTITUENCY AREA:
Asarada ,
Babandha ,
Badalo ,
Balaramprasad ,
Balarampur ,
Bampa ,
Bangursingh ,
Bansing ,
Barda ,
Baunsa Pokhari ,
Bido ,
Buhalipal ,
Chaulia ,
Chital pur ,
Dandiri ,
Dudurkote ,
Gadasila ,
Galapada ,
Gandanali ,
Gengutia ,
Ghatipiri ,
Giridharprasad ,
GOVIND PRASAD ,
Gulehi ,
GUNADEI ,
Gundichapada ,
Hatura ,
INDIPUR ,
Jarada ,
KADABINDHA ,
Kadala ,
KALANGA ,
kalinga ,
Kansara ,
kantamila ,
Kantimili ,
Karanda ,
KHADAG PRASAD ,
Khaliborei ,
KHUNTUJHARI ,
KOTTAM ,
Kukuta ,
Kunua ,
KUSUPANGA ,
Kutunia ,
Madhapur ,
Mahalunda ,
MANGALPUR ,
MOTONGA ,
Nabakishorpur ,
NADHARA ,
NAYABHAGIRATHIPUR ,
NIMINDHA ,
Nizigarh ,
Nuabag ,
Nuagaon ,
ODAPADA ,
P.P.Kote ,
Patala ,
Ranjagol ,
Rasol ,
SADASIBPUR ,
Sanjapada ,
Sankulei ,
SIMINAI ,
Sogarapasi ,
Tarabha ,
Thokar ,
Anjali Behera History(Assembly records)
| | | |
| --- | --- | --- |
| 1. Biju Janata Dal | 14(th) | HINDOL |
| 2. Biju Janata Dal | 13(th) | HINDOL |
| 3. Biju Janata Dal | 12(th) | HINDOL |
MLAs of HINDOL Constituency
Home
Profile
Initiatives
Family
The Writer