Baikunthanath Swain | MLA Profile
KAKATPUR CONSTITUENCY
Reservation Type:- General
Eleventh Assembly (15/03/1995-29/02/2000)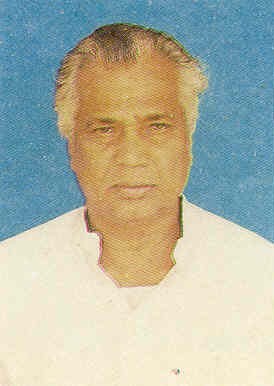 DATE OF BIRTH:13/01/2023
PARENT:Late Achyutananda Swain
SPOUSE'S NAME:Smt. Kadambini Swain
PROFESSION:Agriculturist
HOBBY: Meeting and mixing with the people and helping them in their distress.
FAVOURITE PASTIME:Visiting new places and places of historical interests.
SPECIAL INTEREST:Social service and rendering necessary help to the poor people and weaker sections of the society.
SOCIAL ACTIVITIES:Helping the poor during natural calamities like flood cyclone and epidemics and devoted life for the service of the people. Participated in co-operative movements and fought for the interests of the members of Astarang Salt Society. with various educational institutions and member of various schools and colleges. Took leading part in establishment Kakatpur Mangala College and Bhagabati Mahavidyalaya Konark. Founder of Astaranga Girls`s High School Astaranga. Founder of Patalada High School. Founder of Astaranga College Astaranga.
COUNTRY VISITED:As one of the leading Co-operator visited different countries viz America England France East German West German Japan and thailand during 1981 to study the activities of the Co-operative movement.
PERNAMENT ADDRESS:
At/P.O.-Astarang Dist.- Puri.
---
OTHER INFORMATION:
Joined Congress in 1956. Chairman Astaranga Panchayat Samiti 1967-1970 and 1974-1977. President Astaranga Block Congress Committee. Vice-President District Congress Committee Puri. General Secretary Orissa Pradesh Congress(I) Committee 1981-1987. Member Orissa Pradesh Congress(I) Executive Committee 1980-1987. President Puri-Nimapara Central Co-operative Bank 1980-1990. President `Puri Co-operative Land Development Bank 1980-1990. Vice-President Orissa state Co-operative Land Development Bank. Member Board of Directors Orissa State Co-operative Bank 1981-1990. Secretary Congress Legislature Party 1982-1984. Convenor Pradesh Kishan Cell 1987-1989. Member Orissa Pradesh Congress(I) ommittee. President District Congress(I) Committee Puri since 1992.

EXPIRED ON:02/10/2022
OBITUARY MADE IN THE HOUSE ON 15/11/2022

---
---
CONSTITUENCY AREA:Constituency information will be updated soon.
---
MLA News:Mla News will be updated soon.