Bal Gopal Mishra | MLA Profile
LOISINGHA CONSTITUENCY
Reservation Type:- General
Twelfth Assembly (29/02/2000-06/02/2004)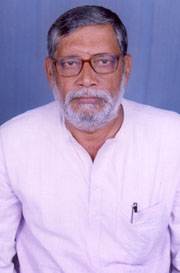 Ph:2507349

DATE OF BIRTH:05/11/2022
PARENT:Late K.P. Mishra
MARITAL STATUS:Married
SPOUSE'S NAME:Smt. Pramodini Mishra
QUALIFICATION:LLB M.Sc.
PROFESSION:Agriculturist
HOBBY: Reading gardening and travelling
SPECIAL INTEREST:Forest protection and regeneration of degenerated forest.
SOCIAL ACTIVITIES:Social Work and associated with various constructive works of the Constituency.
COUNTRY VISITED:Libya United Arab Emirates Jordan Uruguay Colombia Newyork London Argentina as a delegate of I.P.U.
06653-272027
PERNAMENT ADDRESS:
At/P.O.-Salebhata Dist.-Balangir.
---
OTHER INFORMATION:
Director District Central Co-operative Bank Bolangir since 1976 President District Central Co-operative Bank Employees` Union Bolangir 1976 General Secretary Samajbadi Janata Party (National Executive) Detained in the State`s Re-organisation Commission movement in 1956 took active part in 1964 student strike organised Kendu leaves workers in Bolangir district in 1974 initiated "Manibhadra movement" in 1982 involved in "BALCO Hatao Movement" Awarded "Prakriti Bandhu" award in 1992 involves in farmers movement and farmers cause Chairman Paschim Orissa Bikash Parishad Kriyanusthan Committee and involved in the agitation for W.O.D.C. At present heading a movement for a separate Koshal State. Saved the life of four boys who were drowning in a pitch(Coaltar) tank in 1992-93 at Salebhata villageDist. Bolangir Orissa. Organised relief and rescue operation in 1982 flood in Bolangir District. Organised relief and rescue as an when required in an around Bolangir district for fire accident and other Natural Calamities.
---
---
CONSTITUENCY AREA:Constituency information will be updated soon.
---
MLA News:Mla News will be updated soon.