Barada Prasanna Kanhar
MLA PHULBANI CONSTITUENCY
Reservation Type:- Schedule Tribe
Fourth Assembly (01/03/1967-23/01/1971)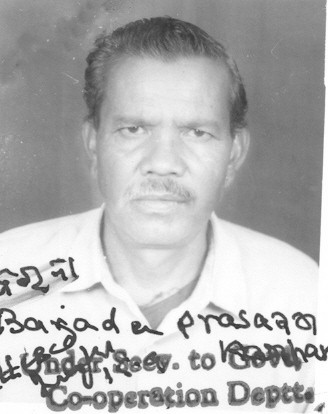 PARENT:st
MARITAL STATUS:Married
SPOUSE'S NAME:Smt. Gouri Devi
QUALIFICATION:Under Matric
HOBBY: Reading Farming and Cycling.
FAVOURITE PASTIME:Tribal dancing
SPECIAL INTEREST:Games
PERNAMENT ADDRESS:At- Raniganj P.O.- Madhapur Via- Khajuripada Dist.- Boudh.

---
OTHER INFORMATION:A student leader
After study engaged in agriculture
Joined politics 1961
Joined Ganatantra Parishad and took active interest in Party organisation which later merged with Swatantra Party; Born in 1941

EXPIRED ON:
05/07/2022
OBITUARY MADE IN THE HOUSE ON 19/11/2022
---
NEWS: News section will be updated soon.


---
Gallery: Gallery section will be updated soon.


---
CONSTITUENCY AREA:
Abdulpur ,
AKHULIPADA ,
ARAGAL ,
AREHIKANA ,
ATALA ,
BADAMBILA ,
BAGHABUDA ,
BALAKATI ,
BALRAMPUR ,
BARADIA ,
Baraha Domanda ,
Baruna ,
BARUNADIHA ,
BATIPADA ,
BHARIGADA ,
BHUIN PUR ,
Chandia Gadi ,
Charapada ,
Deaulatara ,
Demal ,
DESAHI ,
DIMIRIPALA ,
Eradanga ,
GOBINDPUR ,
Hatasahi ,
JAGULAI PADA ,
Jayanagar ,
Juania ,
KALASH PUR ,
KANTA PADA ,
Katana Bania ,
KETUAPALA ,
KOILIPUR ,
KOLIDIHA ,
Koranda ,
MAHU ,
MANIKAPATANA ,
MENDHA PUR ,
Nahuni ,
Namatara ,
NARENDRA PUR ,
NIALA ,
Nuapada ,
Olaver ,
PADANIPALA ,
Padhanapada ,
PALIMI ,
PANASA GANDA ,
Parinuapada Habalganda ,
PATRA PUR ,
Pegarapada ,
PETAPADA ,
SAHIRA ,
sanamanga ,
SANSIDHA ,
SIHOPADA ,
Siko ,
SINGIRI ,
TARAS ,
TRAILOKYAPUR ,
Tunga ,
Barada Prasanna Kanhar History(Assembly records)
| | | |
| --- | --- | --- |
| 1. Swatantra Party | 4(th) | PHULBANI |
MLAs of PHULBANI Constituency
Home
Profile
Initiatives
Family
The Writer