Dibakar Patnaik
MLA CHIKITI CONSTITUENCY
Reservation Type:- General
Fourth Assembly (01/03/1967-23/01/1971)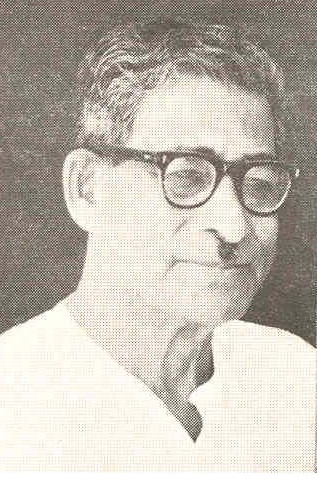 DATE OF BIRTH:07/10/2022
PARENT:Late Shri Madan Mohan Dewan Bakshi Patnaik
MARITAL STATUS:Married
QUALIFICATION:Matric
PROFESSION:Social Work
HOBBY: Attendance on patients.
FAVOURITE PASTIME:Gardening; Music and playing cards.
SPECIAL INTEREST:Irrigation and looking after poor patients.
PERNAMENT ADDRESS:P.O.-JayantipurChikati TalaluqDist.-GanjamOrissa.

---
OTHER INFORMATION:PresidentAkhand Samaj1916;Joined Indian National Congress1920;suffered imprisonment twice during 1921-22; kept as detainee for 11 months in 1930 and also imprisoned for six months in 1932;PresidentChikiti Village Panchayat 1923-25; arrested twice in Kissan movements in 1935 and 1956; Vice-President and PresidentGanjam District Board1936-46;MemberOrissa Legislative Assembly1936-42 and 1951-56; was presidentGanjam D
C
C
and Member(i) P
C
C
Orissa and (ii) A
I
C
C
; joined forwarded Block1941; served as MemberWorking Committee All India forward Block also became its Vice-President;elected to the Rajya Sabha in April1958

EXPIRED ON:
01/03/2023
OBITUARY MADE IN THE HOUSE ON 08/03/2022
---
NEWS: News section will be updated soon.


---
Gallery: Gallery section will be updated soon.


---
CONSTITUENCY AREA:
Areda ,
Babebir ,
Badi ,
Bargaon ,
Bargaon ,
Bhainsadani ,
Bharuamunda ,
Bhojpur ,
Bhuliasikuan ,
Birighat ,
Boden ,
Boirgaon ,
Chatiaguda ,
Chindaguda ,
Dabri ,
Damjhar ,
Duajhar ,
Farsara ,
Gandabahali ,
Ghantiguda ,
Ghatmal ,
Godal ,
Gorla ,
Hatibandha ,
Jharbandh ,
Karanbahali ,
Karangamal ,
Karlakote ,
Kendumunda ,
Khaira ,
Khairpadar ,
Khasbahal ,
Khudpej ,
Kirikita ,
Kusumjore ,
Lanji ,
Larka ,
Litiguda ,
Litisargi ,
Makhapadar ,
Nagpada ,
Nangalbod ,
Nehena ,
Niljee ,
Nuapada ,
Ranimunda ,
Rokal ,
Sanmaheswar ,
Saradhapur ,
Sinapali ,
Singjhar ,
Sunapur ,
Timanpur ,
Tukla ,
Dibakar Patnaik History(Assembly records)
| | | |
| --- | --- | --- |
| 1. Indian National Congress | 4(th) | CHIKITI |
| 2. Forward Block Marxist | 1(th) | PATRAPUR |
MLAs of CHIKITI Constituency
Home
Profile
Initiatives
Family
The Writer