Gangadhar Mohapatra | MLA Profile
BRAHMAGIRI CONSTITUENCY
Reservation Type:- General
Ninth Assembly (09/03/1985-03/03/1990)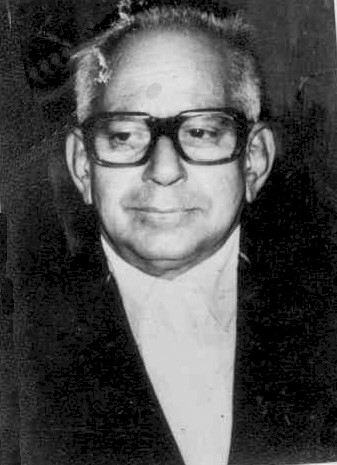 DATE OF BIRTH:08/09/2022
PARENT:Late Damodar Mohapatra
MARITAL STATUS:Married
SPOUSE'S NAME:Smt. Rukmini Devi.
QUALIFICATION:LLB M.AEconomics
PROFESSION:Advocate
HOBBY: Gardening and Reading.
FAVOURITE PASTIME:Reading periodicals and biographies.
SPECIAL INTEREST:Social Work.
SOCIAL ACTIVITIES:Actively associated with a large number of educational and cultural institutions took keen interest in social work since his early days.
COUNTRY VISITED:Japan Thailand and Hongkong in 1970.
ADDRESS:
Plot No.- 47 Forest Park Bhubaneswar Dist.- Khurda.
PERNAMENT ADDRESS:
At.-Biswanathpur P.S.- Satyabadi Dist.-Puri.
---
OTHER INFORMATION:
Inspired by the ideals of I.N.C. during school career; arrested and expelled from Puri Zilla School for his activities during the Civil Disobedience Movement as far back as 1931; Courted Arrest twice for national activities during 1940-41; Led the All Orissa Students` Federation as its Secretary for a long time till completed Law in 1940; joined Bar at Puri in 1941; An eminent Lawyer; Former Government pleader and Public Prosecutor in 1949; President of Orissa Khadi and Village Industries Board from 1972 to 1974; State Councilor in Sarju Prasad Commission of Enquiry; A special prosecutor to the State Government in many important cases; President Puri Bar Association in 1972-73; Elected as Vice-Chairman and later as Chairman of Puri Municipality in 1949 and from 1951 to 1958; Member of Pradesh Congress Working Committee and also of AICC from 1961 to 1974; Member of Executive Committee of P.C.C. from 1961-1969; pro-chancellor University of Agriculture & Technology Orissa. A popular figure in the public field of the state for the last four and half decades; He commands tremandous love affection among the people because of his simple and unassuming demeanour.

EXPIRED ON:05/04/2022
OBITUARY MADE IN THE HOUSE ON 31/07/2022

---
---
CONSTITUENCY AREA:Constituency information will be updated soon.
---
MLA News:Mla News will be updated soon.