Laxman Munda | MLA Profile
BONAI CONSTITUENCY
Reservation Type:- Schedule Tribe
Fifteenth Assembly (18/05/2014-Running)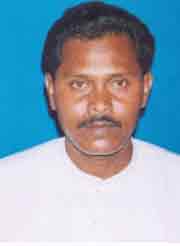 Ph:(0674)2405410 M-9437246600

DATE OF BIRTH:18/07/2022
PARENT:Shri Bagun Munda
MARITAL STATUS:Married
SPOUSE'S NAME:Smt. Sabitri Munda
QUALIFICATION:B.A.
PROFESSION:Social Work
HOBBY: Football and Hockey
FAVOURITE PASTIME:Spending time among tribals
SPECIAL INTEREST:Fight against obscurantist social stigma and blind beliefs
SOCIAL ACTIVITIES:To spread education sports and progressive cultures
CULTURAL ACTIVITIES:Organise literary symposium and tribal cultural functions
LITERAL ACTIVITIES:Casully contribute articles to papers on Tribal economics problems
SPORTS AND CLUBS:Associated with different clubs and sports of locality
ADDRESS:
Qrs. No.-F-13/1 MLA Colony Unit-IV Bhubaneswar
PERNAMENT ADDRESS:
Vill- Sarasposh PO-Gopana P.S.-K. Balang Dist- Sundargarh
---
OTHER INFORMATION:
Member State Council C.I.T.U. Sarapanch Gopana Grama Panchayat (1992-95) Chairman Koira Panchayat Samiti (1997-02) associated with several nos. of Trade Unions particularly among mines Mineral transport and forest workers.
BOOKS WRITTEN:
---
---
CONSTITUENCY AREA:Constituency information will be updated soon.
---
MLA News:Mla News will be updated soon.