Padmalochan Panda
MLA SIMULIA CONSTITUENCY
Reservation Type:- General
Thirteenth Assembly (15/05/2004-19/05/2009)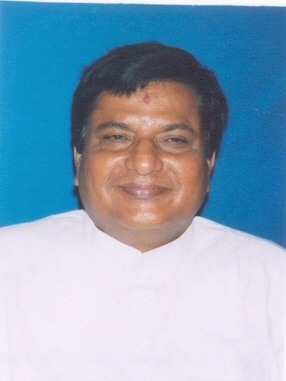 DATE OF BIRTH:10/04/2022
PARENT:Late Kalandi Charan Panda
MARITAL STATUS:Married
SPOUSE'S NAME:Smt. Kuntala Kumari Panda
QUALIFICATION:B.Com
PROFESSION:Agriculturist
HOBBY: Reading
FAVOURITE PASTIME:Reading
SPECIAL INTEREST:To help the poor
SOCIAL ACTIVITIES:Social service
CULTURAL ACTIVITIES:To play drama
LITERAL ACTIVITIES:Reading magazines
SPORTS AND CLUBS:Playing football
COUNTRY VISITED:South Korea North Korea Thaipai Thailand Japan Hongkong U.S.A. U.K. Singapore Sweden Netherland France Canada
ADDRESS:Qrs. No.VIR-4 Unit-VI Bhubaneswar
PERNAMENT ADDRESS:At.-Diwan Purusotampur P.O.-Balikhanda Simulia Dist.-Balasore.

---
OTHER INFORMATION:During 1975 I was elected as Sarpanch two times in Kanehapada Grama Panchayat of Simulia Block Panchayat Samiti Chairman in the year 1984 President Purusotampur Society of Simulia Block 4 times President R
C
M
S
Soro from 1982-85 President Balasore District Central Co-operative Bank 5 times selected as best bank President in the State and awarded gold medal in the year 1997 Chairman Estimate Committee for 3 times Chairman Papers Laid on the Table Committee 3 times visited 32 countries

---
NEWS: News section will be updated soon.


---
Gallery: Gallery section will be updated soon.


---
CONSTITUENCY AREA:
A.KATAPALI ,
BAIJAMUNDA ,
BASANTPUR ,
BATEMURA ,
BHIKAMPUR ,
BISALKHINDA ,
BOMALOI ,
CHAURPUR ,
GADMUNDA ,
GHICHAMURA ,
GUNDERPUR ,
JANGLA ,
JHANKARPALI ,
KAINSIR ,
KALAMATI ,
KANKHINDA ,
KARDOLA ,
KATARBAGA ,
KHINDA ,
KILASAMA ,
KINALOI ,
KUDGUNDERPUR ,
LAIDA ,
LAPANGA ,
MANESWAR ,
MATHPALI ,
NISHANBHANGA ,
NUATIHURA ,
PARMANPUR ,
RENGALI ,
RENGLOI ,
SALAD ,
SANKARMA ,
SASON ,
SENHAPALI ,
SINDURPANK ,
TABADABAHAL ,
TABLA ,
TALAB ,
TAMPARKELA ,
THEMRA ,
Padmalochan Panda History(Assembly records)
| | | |
| --- | --- | --- |
| 1. Indian National Congress | 13(th) | SIMULIA |
| 2. Indian National Congress | 11(th) | SIMULIA |
| 3. Indian National Congress | 9(th) | SIMULIA |
MLAs of SIMULIA Constituency
Home
Profile
Initiatives
Family
The Writer