Surama Padhy
MLA RANPUR CONSTITUENCY
Reservation Type:- General
Thirteenth Assembly (15/05/2004-19/05/2009)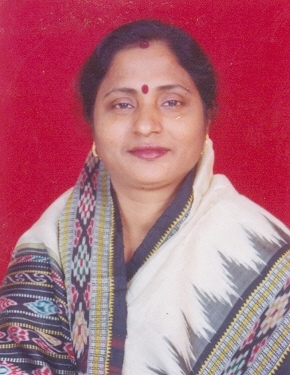 DATE OF BIRTH:29/12/2022
PARENT:Shri Harischandra Padhy
MARITAL STATUS:Married
SPOUSE'S NAME:Mr. Bipina Bihari Padhy
QUALIFICATION:LLBUtkal University M.A(Home Science)
PROFESSION:Advocate
HOBBY: Reading and collecting books
FAVOURITE PASTIME:Spending time with children
SPECIAL INTEREST:Reading Atalji`s poems
SOCIAL ACTIVITIES:S.H.G. formation Organising blood camps service to elderly self defence and personality development programme for women
CULTURAL ACTIVITIES:Interest in promotion of Folk - songs and dance of Orissa.
LITERAL ACTIVITIES:Articles written on women emnancipation associated with Orissa Lekhika Sansad
SPORTS AND CLUBS:Adivisor to sports and youth clubs.
ADDRESS:Qrs. No.-VII-C-9 Unit-I Bhubaneswar & Plot No.1267/IA Nayapalli Bhubaneswar PIN-750012
TELNO:9437001778,
PERNAMENT ADDRESS:At- Godipatnasahi P.O.-Ranapur Nayagarh.

---
OTHER INFORMATION:Joined B
J
P
on 1988 State President B
J
M
M
from 1998 to 2000 National President B
J
M
M
from 2000 to 2002 National Executive Member B
J
P
Chairperson Orissa State Cashew Development Corporation Ltd
Governing Board Member of Rastriya Mahila Kosh (New Delhi) National Council Member (NIRTAR) Vice-President-Orissa International Centre Executive Member-Sookruti Vice President Bharat Scouts and Guide

---
NEWS: News section will be updated soon.


---
Gallery: Gallery section will be updated soon.


---
CONSTITUENCY AREA:
ANGARABANDHA ,
BADAKANTAKUL ,
BADAKERA ,
BALANGA ,
BALARAMPRASAD ,
BALASINGA ,
BALUAKATA ,
BANTALA ,
BARAGAUNIA ,
BASALA ,
BAULIGARH ,
BEDASASAN ,
BHOGABERENI ,
BONDA ,
BUDHAPANKA ,
CHHELIAPADA ,
DHOKUTA ,
FULAPADA ,
GADATARASH ,
GARHSANTRI ,
GOTAMARA ,
INKARBANDHA ,
KANGULA BENTAPUR ,
KHALARI ,
KHINDA ,
KULAD ,
KUMURUSINGHA ,
MAHIDHAR PUR ,
NANDAPUR ,
NUAHATA ,
POKATUNGA ,
RANTALEI ,
SANKHAPUR ,
TALAGADA ,
TALAMUL ,
TULASIPAL ,
Surama Padhy History(Assembly records)
| | | |
| --- | --- | --- |
| 1. Bharatiya Janata Party | 13(th) | RANPUR |
MLAs of RANPUR Constituency
Home
Profile
Initiatives
Family
The Writer