Bed Prakash Agarawalla
MLA PATKURA CONSTITUENCY
Reservation Type:- General
Fifteenth Assembly (18/05/2014-)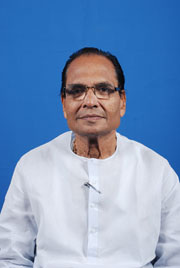 DATE OF BIRTH:16/01/2023
PARENT:Late Ramanda Lal
MARITAL STATUS:Married
SPOUSE'S NAME:Smt. Sabitri Agarwalla
QUALIFICATION:B.A(Hons.)
PROFESSION:Social Service
HOBBY: Social Work
TELNO:407847, 06727 - 22211
PERNAMENT ADDRESS:Vill.-Madhiala P.O.-Kendrapara Dist.-Kendrapara.

---
OTHER INFORMATION:Councillor Kendrapara Municipality 1957-70 Chairman Kendrapara Municipality 1970-74
National Executive Member Bharatiya Janata Party

---
NEWS: News section will be updated soon.


---
Gallery:
---


---
CONSTITUENCY AREA:
AITIPUR ,
BACHHARAI ,
Badabetara ,
BALIA ,
BANDHAKATA ,
Bangalapur ,
Bantala ,
BARIMUL ,
BASUPUR ,
Bedari ,
BENIPUR ,
Bhagabanpur ,
CHANDOL ,
CHATRACHAKADA ,
CHHOTI ,
DANPUR ,
ENDARA ,
Garadpur ,
GOLARAHAT ,
GUALSING ,
HARIANKA ,
INDALO ,
JALAPOKA ,
JAMAPARA ,
JANARA BARIMULA ,
Kalabuda ,
KARILOPATANA ,
KAUPADA ,
KHAMOLA ,
KURUJANGA ,
KUSIAPAL ,
LAXMINARAYANPUR ,
Madhusasana ,
MANGALPUR ,
MEHENDINAGAR ,
MUKUNDAPUR ,
Nadiabarei ,
NAHANGA ,
NARASINGHPUR ,
Padmapur ,
Pakhada ,
Palasudha ,
PALEI ,
Patkura ,
RAGHUDEIPUR ,
Ramachandra Pur ,
RATADIAKHANDASAHI ,
Sanaadhanga ,
Talakusuma ,
Tikanpur ,
Tyendakuda ,
Bed Prakash Agarawalla History(Assembly records)
| | | |
| --- | --- | --- |
| 1. Biju Janata Dal | 15(th) | PATKURA |
| 2. Biju Janata Dal | 14(th) | PATKURA |
| 3. Bharatiya Janata Party | 12(th) | KENDRAPARA |
| 4. Janata Dal | 10(th) | KENDRAPARA |
| 5. Janata | 7(th) | KENDRAPARA |
| 6. Utkal Congress | 6(th) | KENDRAPARA |
MLAs of PATKURA Constituency
Home
Profile
Initiatives
Family
The Writer