Chakradhar Satpathy
MLA PATKURA CONSTITUENCY
Reservation Type:- General
Fourth Assembly (01/03/1967-23/01/1971)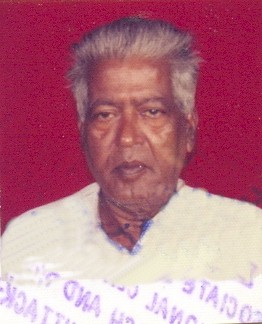 DATE OF BIRTH:01/10/2022
PARENT:Late Dhaneswar Satpathy
MARITAL STATUS:Married
SPOUSE'S NAME:Smt. Renubala Satpathy
QUALIFICATION:B.A B.Ed.
HOBBY: Studies
FAVOURITE PASTIME:Outdoor and indoor games
SPECIAL INTEREST:Social Service
LITERAL ACTIVITIES:Compose poems write short stories and essays on educational and political things.
ADDRESS:C/O- Bhagirathi Swain At/P.O.- Bidanasi Dist.- Cuttack.
PERNAMENT ADDRESS:At/P.O.: Kalatbuda; Dist.: Cuttack.

---
OTHER INFORMATION:Chairman of Patkura Panchayat Samiti 1961-67
Contested 1961 election of Orissa Legislative Assembly and lost
Secretary of the P
S
P
for Patkura and have been fighting for Peasants and low paid teachers

EXPIRED ON:
28/05/2022
OBITUARY MADE IN THE HOUSE ON 31/07/2022
---
NEWS: News section will be updated soon.


---
Gallery: Gallery section will be updated soon.


---
CONSTITUENCY AREA:
AGRIA ,
AMBAGADIA ,
ANLA ,
BADASAHI ,
BAISINGA ,
BALABHADRAPUR ,
BETNOTI ,
BHIMDA ,
BIRESWARPUR ,
CHANCHHIPADA ,
CHANDANPUR ,
CHHELIA(A) ,
DAHIKOTI ,
DEULIA ,
DURGAPUR ,
GADADEULIA ,
JOGINUAGAON ,
JUGAL ,
KALAMA ,
KENDUDIHA ,
KOCHILAKHUNTA ,
MADHAPUR ,
MAHISASOLE ,
MANATRI ,
MANGOBINDPUR ,
MERDA ,
MUKTAPUR ,
NADPUR ,
PATALIPURA ,
PATISARI ,
PAUNSIA ,
PRATAPPUR ,
PURINDA ,
PURUNIA ,
RAGHUPUR ,
SAITPUR ,
SALABANI(S)NAHANDASOLE ,
SALGAON ,
SANTARA ,
SATHILO ,
SIALIGHATY ,
SUHAGPUR ,
TALAPADA ,
Chakradhar Satpathy History(Assembly records)
| | | |
| --- | --- | --- |
| 1. Praja Socialist Party | 4(th) | PATKURA |
MLAs of PATKURA Constituency
Home
Profile
Initiatives
Family
The Writer